---
Versatile and Reusable Halloween Costumes for Kids – Wear It Twice
---
For most kids, the tradition of dressing up for Halloween is just as exciting as the free candy. It's the one night each year kids can have fun dressing up like their favorite character! Unfortunately, like Cinderella on the night of the ball, this one night quickly passes -- the clock strikes twelve, the magic is over, and your kids will probably never wear their Halloween costume again. Luckily, we have come up with some affordable Halloween costume ideas that your kids can wear again... long after midnight on Halloween.
Super Mario Halloween Costume
Super Mario is perhaps one of the most recognizable video game icons and is one of the easiest characters to bring to life on Halloween. Toddlers, young children, and even adults can pull this costume off with some simple overalls and a boys red polo shirts. To really get into character, all you need is a pair of white gloves, a glue-on mustache, and a red hat.
Hunter or Marine Halloween Costume
Dressing up like a hunter or a marine will always be cool. You can wear a camo jacket or camo cargo shorts shorts together or separately to get the total "Duck Dynasty" effect. These clothing items are versatile and can be worn throughout the year--long after duck hunting season.
Hogwarts Student Halloween Costume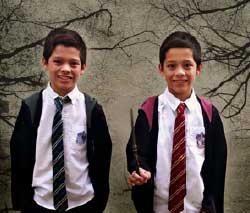 With over 400 million copies sold worldwide and eight movies made, the Harry Potter series continues to be a crowd-pleaser, especially during Halloween.
Boys or girls can easily -- and affordably -- look just like the Hogwarts students they admire. Just pair our Dickies Kids' Eisenhower Jacket with a white Oxford shirt, black dress pants for boys (or a skort for girls), and an iconic striped tie to help make the magic happen.
Scarecrow or Minion Halloween Costume
Overalls are perfect for other "reusable" Halloween costumes like train engineers, scarecrows, or the increasingly popular minions seen in Despicable Me. For instance, children's or adult overalls worn with a yellow pullover hoodie are great basics. You can then add small details that will make your costume even more identifiable as a train engineer, scarecrow, or minion. A floppy straw hat, iron-on patches, and face paint are easy additions to a scarecrow costume, while goggles, black gloves, and/or black shoes will accessorize a minion.
Rosie the Riveter Halloween Costume
Rosie the Riveter, a cultural icon from World War II, represented the hard-working women of the day with her tough, feminine style. Her look is a popular Halloween costume idea for both girls and women, which you can easily achieve with a girls long-sleeve chambray shirt and red bandana or polka dot scarf. Whether for Halloween or for everyday vintage style, this ensemble is a classic.
Handyman or Crocodile Hunter Costume
Dickies kids' clothing can easily help to build a handyman costume. It just takes a few key pieces. From general handymen and repairmen to their cartoon counterparts, such as Fix-It Felix and Bob the Builder, boys' twill shirts and boys' pants with a utility belt will get the job done.
A Dickies twill short-sleeve shirt in desert sand can make a great "Crocodile Hunter" costume. Pair this shirt with khaki shorts and add binoculars around the neck, and your boy (or girl!) will look just like Robert Clarence Irwin or his late father, Steve.
No matter what your kids aspire to be this Halloween, remember you can get the most bang for your buck with affordable costumes that they can wear again. Dickies is a great place to start.