You may have noticed office dress codes have changed. Even traditionally conservative employers such as law firms, banks and government agencies have relaxed their dress requirements. Some have gone as far as allowing you to wear dressy jeans to work.
Why the change? The #1 reason is that companies believe it will help them recruit and keep the best in the new generation of workers. In a competitive job market, companies have to be more creative about how they attract the right people. In addition to offering good compensation, having a less formal dress code as a perk appeals to many in today's workforce.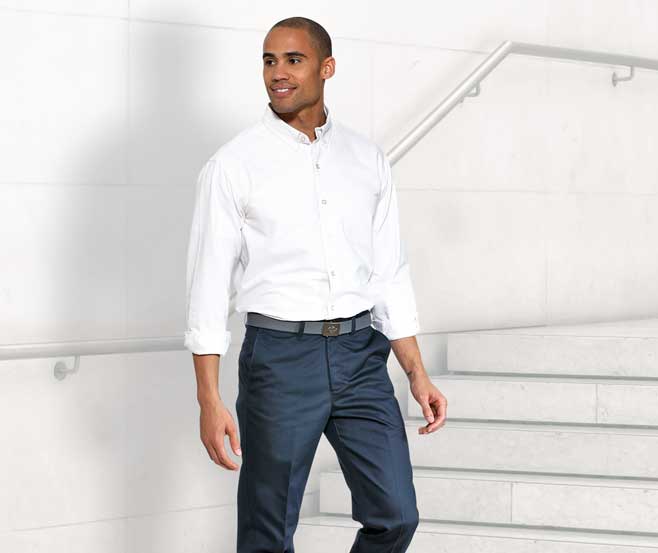 Baby Boomers may have bought the idea of wearing a suit and tie to the office, but this generation of professionals wants to wear more comfortable clothes. Many say it helps their performance. The result is a new modern business casual dress code has emerged. (Learn more about What Is Business Casual?)
The move toward more casual professional attire accelerated in recent years due, in part, to the availability of new fabrics. Stretch fabrics once found primarily in gym clothes and activewear have now made their way into the office. Stretch, flex and performance are words you'll often see describing fabrics found in popular business casual workwear. It's all about comfort and versatility as well as easy-care.
Khaki pants are a good example. Khaki pants have long been a wardrobe staple for guys--at work and after work. They look as good worn with a plaid shirt or solid oxford shirt as they do dressed up with a tie and navy blazer or pullover sweater. However, today's Khaki pants are a far cry from those you wore even 5 or 10 years ago. You've got a choice of slim, regular and relaxed fits with a flat or pleated front. Plus, you'll find Khaki pants made of high-tech fabrics like the Repreve®cotton-polyester blend that's made from recycled plastic bottles. This fabric is comfortable, breathable and extra-strong with built-in stain release and wrinkle resistance. It's also good for the environment. Talk about comfort, versatility and easy-care...this is it!
Guys want clothes they can wear to work and keep on as they head into the evening, whether they're picking up the kids after school or going out to dinner with their buddies. The challenge is finding business casual workwear that blends all-day comfort with a professional appearance and after-work versatility.
Here are some suggestions from the guys at Dickies:
---