---
Dress Code for Del Taco Employees
---
Skip to:
Extra 10% OFF Your Order
The Del Taco dress code for employees includes uniform pieces of clothing provided by the restaurant. Del Taco gives each team member a branded green shirt, cap and black apron to wear on the job.
The employee is responsible for providing the rest of the required uniform. These pieces include:
Black pants
If you don't already own a pair, look for affordable black pants for men or women that are comfortable, durable and easy-care. Make sure they're not too tight. You may also want to look for pants with a little a little stretch or flex in the fabric for comfort. This means finding pants made from fabric that blends cotton with Spandex or polyester. In addition to affordability and comfort, choosing easy-care pants for your uniform and it will save you time and effort. In most cases, they come out of the clothes dryer wrinkle-free with no need for ironing. And if you don't already own a pair of black pants, basic black pants go with everything--on and off the job. You can get plenty of wear out of them even when you're not working.
Black non-slip shoes
The Del Taco dress code for employees requires team members to wear black non-slip shoes for their personal safety. Unless your manager tells you differently, your shoes can be slip-ons or tie shoes. The important thing is they need to have slip-resistant soles that provide traction when you're walking across floors that may be wet or have grease or food spilled on the surface. In addition to having a non-slip sole, you'll want to make sure your restaurant shoes are comfortable because you're on your feet a lot. Get tips for choosing black non-slip shoes.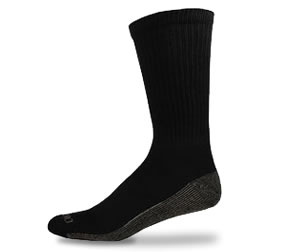 Black socks
Black socks complete the Del Taco uniform. You probably already have a pair or two in your drawer so there's no need to buy new ones.
You may wonder why Del Taco has a dress code for employees and requires them to wear uniform clothing. There are several reasons. Restaurant employees in uniforms look sharp and more professional. This helps build customer confidence in the restaurant's quality of food and service. Uniforms also make it easier for customers to pick out the people to whom they can direct their questions. Also, when you're wearing a uniform, it's a sign you're ready to go to work.
---
Exclusive Offer from Dickies
Enjoy 10% OFF your total purchase.
Confirm your employee eligibility
in quick and easy steps.
Verify Now
You will not leave the Dickies site.
---