Meet Mariell, an Artist Looking to Her Past to Direct Her Future
Walking outside in the Foundry District of Fort Worth, you're likely to stumble upon The Grand Berry Theater Rainbow Wall. Full of inspiration from many places, you'll understand this piece more when you learn a little about the artist, Mariell Guzman, and how she uses her past to influence her future.
What influences your art?
Mariell grew up in an extremely creative family. Her mom was an artist, both of her siblings are creatives, and her dad is an engineer—which allowed her mind to wander and think about making things more innovative. Because her family is so artistically inclined, she has considered herself an artist since she was just a kid.
I'm lucky enough that I have family that really cared about making that creativity and not letting it just slip away.
Growing up in Mexico also had an impact on who she has become. The region she lived in was full of inspiration. During her formative years, she was surrounded by brilliant colors in her neighborhood and all the local artisans she saw on a day-to-day basis.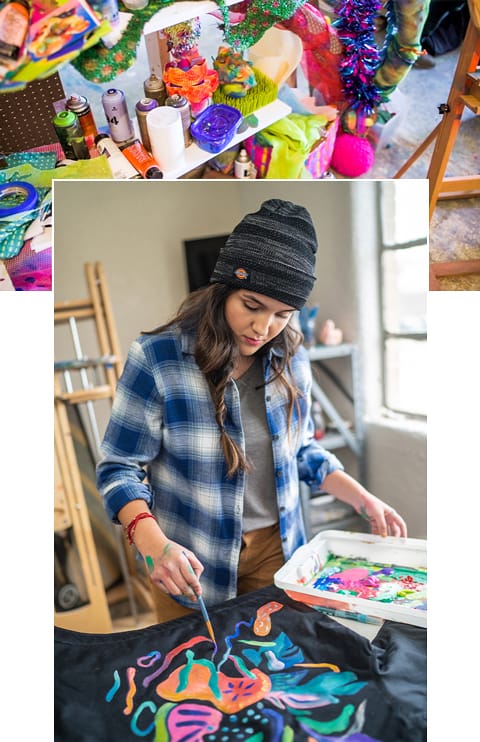 As far as my work, I've always felt a great importance in color and the power of color—coming from Mexico and seeing how color really makes an impact in your everyday life and your surroundings.
One she arrived in the US, her schooling took over as another main influencer. She loved working with natural elements, so all of her science classes had her mind spinning. She loved biology, and mainly marine biology, because she saw the process of how things grow, expand and decay and she used this way of thinking to create some of her best pieces.
What kind of artist are you?
Listening to how Mariell works with her style transitions, it's apparent that each new medium she uses inspires her to experiment with more. She takes past styles and weaves them into new ones—which is why she considers herself a multi-disciplinary artist – a title which makes sense when you consider all the different platforms she works with.
I like to be open to what materials I work with to manipulate and make stuff my own. It drives my passion to always be experimenting.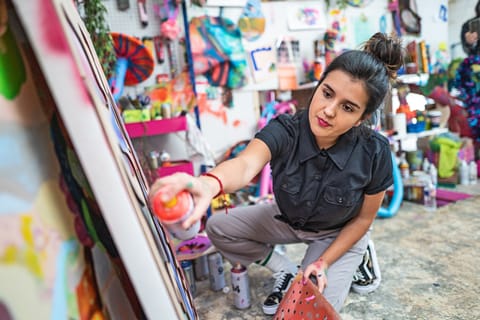 The transformation of Mariell's work has changed tremendously since the beginning. She started off with a style that was very geometric and symmetrical, which she says limited her in a way. About two years ago she thought she would experiment with screen printing and that was one of the best decisions she's ever made.
I'm freer and let the brush and the paint collaborate with me, where with the screen printing you need stencils and to have it all planned out. I think it really changed my process.
Mariell's work lines the walls of her first studio, featuring examples of her screen printing, sculptures and her current favorite method – abstract expressionism. It's interesting to see how her past artwork influences each new medium. Mariell isn't kidding when she says she finds inspiration everywhere, as she picks up an old bath mat she found at a thrift store. She loved the texture and that's all it took for her to know she could paint it and transform it into something that could be displayed and admired—a nod to her experimentation in childhood.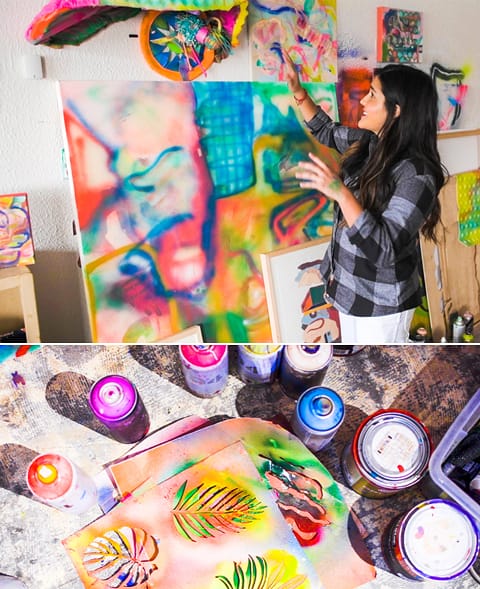 I always say I'm open as far as what kinda of styles I look and admire and learn from because I feel like all of it ties into how your mind works and creates.
Any advice for aspiring artists?
Mariell always goes back to the same term when describing her approach as an artist – self-discipline. In the artistic realm, you are your own boss. You can push yourself to work as hard as you want, try as many mediums as you want, and do your own research and experimentation with new styles. This goes back to her childhood, where she learned a lot from her artist mom and hard-working siblings, and has taken that character trait into her career. She says it's very liberating work, but you also have to learn to be ok with bad pieces.
Not everything is going to be great. I've learned a lot from the pieces that I hated the most because I learned why they were bad and reacted differently in the future.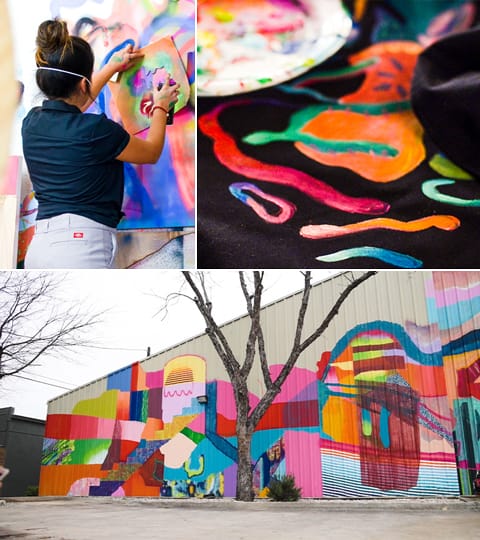 As Mariell walked toward the gigantic wall that made up the side of The Grand Berry Theater, she was ready to unveil her most challenging project yet. Full of vibrant colors inspired by Mexican culture and a collection of styles she's been enhancing since she was just a kid, she pulled off her most-visible piece yet. She wanted to create art that exists in a public space, much like the one she grew up around in Mexico. As she says," If I want to work large, I might as well go all the way." And she definitely did.
Follow Mariell: Website | Instagram