Meet Big Tex: Dickies' Biggest Customer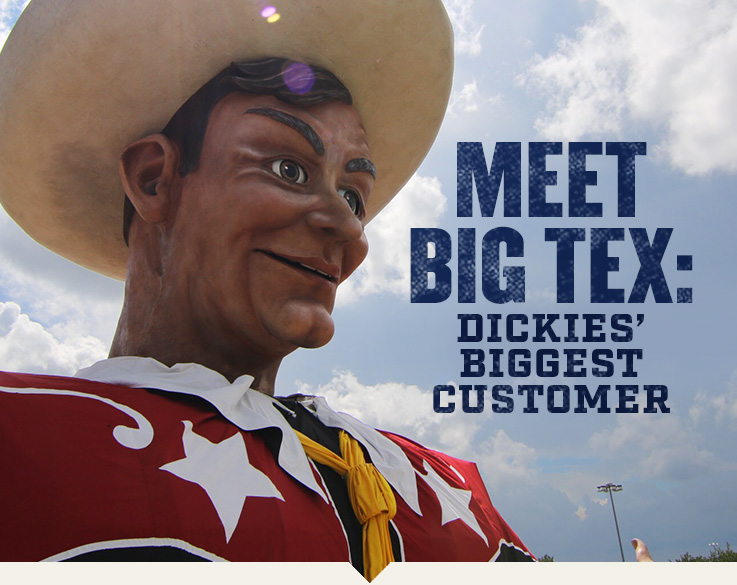 Meet Big Tex: Dickies' Biggest Customer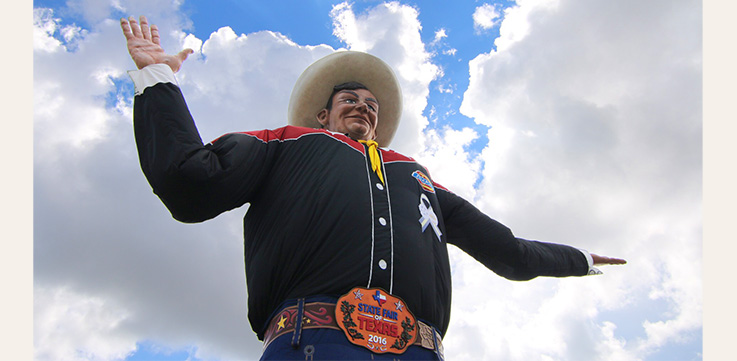 Big Tex stands proud at 55-feet tall to greet guests at the State Fair of Texas.
October 14, 2016 – The State Fair of Texas® has been a staple of Texan culture for the past 130 years, celebrating with live entertainment, corny dogs and the famed auto show. Standing tall at the center of it all is Big Tex®, the fair's statue and icon since 1952. A hard-working cowboy who greets visitors, Big Tex and his gear have to be ready for anything. That's why it takes a team of Dickies pattern makers and designers to create his shirt and pants to be both functional and durable. Jill O'Leary, Dickies' Director of Technical Development and Big Tex's lead apparel developer says,
"Big Tex is pretty similar to our other workers, just on a larger scale. He's out there for four weeks in the unrelenting Texas weather when we transition from summer to fall. We just never know what Mother Nature is going to throw at him."
After an unexpected accident in 2012, it became the perfect chance to make Big Tex bigger and more resilient than ever. But dressing a national figure takes planning and hard work. Jessie Tang, Dickies' Senior Designer, Men's and designer for Big Tex's shirt and pants hints, "It now comes down to the fire-resistant denim."
Dressing An Icon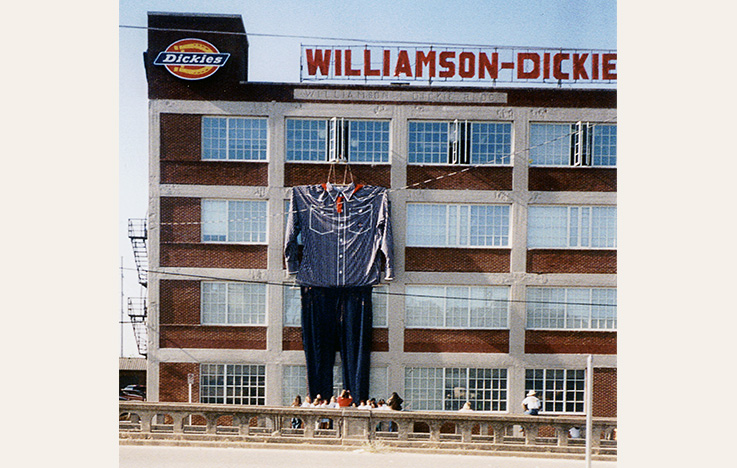 The pattern used to create Big Tex's outfit is 600x bigger than a standard pattern. Photo from 1997.
Dressing Big Tex starts nine months before the State Fair. According to Jill, "We start talking about a new outfit around December and look at designs in January. We'll get all the proportions ironed out, and then we start cutting fabric in June for the September reveal." The team's first consideration? The fair's theme, which changes each year. Jessie explains, "Based on the theme, we start doing research. Then we look at durability, since he goes out for four weeks. The last thing we look at is, 'how are we going to tie together the design and colors to Dickies?'"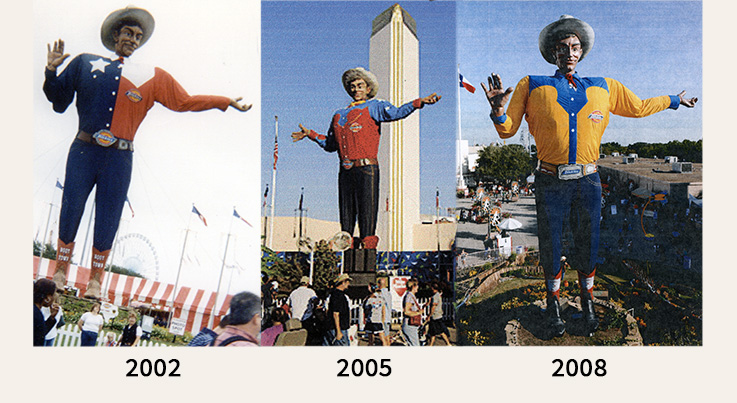 This year's theme, "Celebrating Texas Agriculture," inspired the team to create a black and red Western shirt for Big Tex, complete with rugged details. Made from awning fabric to follow building codes, it's a modern update to his previous looks.
Down to Denim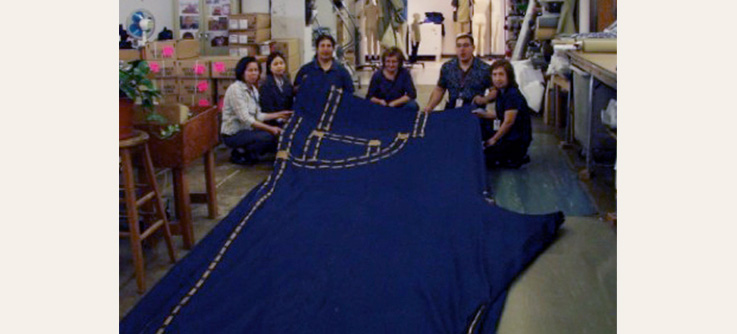 Big Tex's denim jeans weigh 100 pounds.
To complete the outfit, the team modeled Big Tex's pants after the Dickies X-Series Regular Fit Jean, built to be tough and mobile for the everyday worker. Specifically for Big Tex, Dickies made the jeans from 14 oz. flame-resistant denim and it took two weeks to sew them together. Jessie explains, "We combined X-Series design details, like the X stitching on the left side. And the stitching on the back pockets, when you put them together, it's a 'W' for Williamson-Dickie. And with the iconic signature red logo, it tells the brand story."
But the hard work is worth it, because Big Tex makes people happy. Jill reflects,
"People remember when their parents took them to the fair...there's a lot of great memories for people and Big Tex is the ambassador for that."
Jessie agrees. "He brings people together and as part of the Dickies team, we want to be involved. It's not only celebrating Texas heritage, but also the Dickies product."