Perfecting the Process of Making Custom Hats
Meet Jeff Biggars, owner of Biggar Hats
When it comes to describing a person that would be successful in the hat industry, Jeff Biggars says they have to be an, "Artistic Mechanic." As the owner of Biggar Hats, Jeff says, "You have to have the art in there and these old machines break down all the time so you have to learn to work on them. There's a lot that goes into it."
Maintaining the machines requires a lot of work, since they're from the 1900's. Jeff sticks with them though, based on a simple theory. "We use machines that are over 100 years old because they made hat making machines back then. You look at today and your smartest minds are making rockets or computers. The smartest minds go where the money is and back then the money was in hats, so you have really good machines because of that."
Jeff wouldn't always describe himself as an artistic mechanic though. His road to success in the hat business was long and hard. It was a lot of work and he spent many long, humid, sweaty hours trying to learn, and he struggled for years without even knowing it. After many years at a large company, he moved to a small company that specialized in hats. This is where he had an ah-ha moment and realized he wasn't actually shaping them right.
When I found out there was a better way to shape hats it really made me mad because I shaped hats for four years and I thought I was good. Then I went to a custom hat shop, started working there and I found out that I didn't learn anything. So, I had to relearn everything."
Although he went through many struggles, he is now a master hat maker and has taught many people the right way to master the craft. He shows them verbatim how to shape the hats in a way for them to pick it up quickly.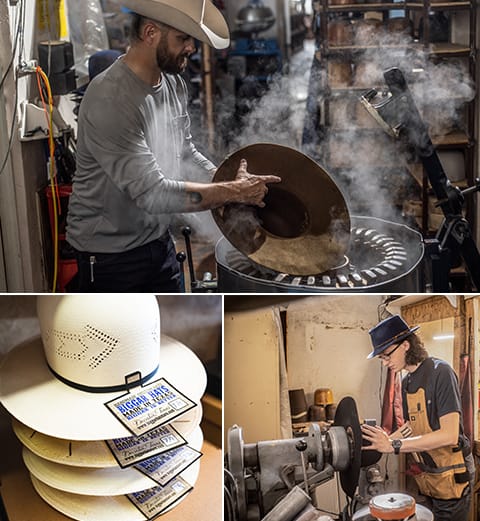 "The best way to teach someone how to shape is to give them hats that are rejects or defective and let them practice. The pressure of shaping a hat for a customer, right in front of them, is kind of intense, so if you just give them a hat where it doesn't matter, their confidence level goes up because you don't have to worry about messing up a hat. I say shaping is 80% confidence."
There aren't a lot of experienced hat makers, so he has to hire individuals with less experience. He knows they have to start somewhere, and if you start them at entry level jobs they learn their way from there. He does, however, save one part of the process for long-time employees.
The most difficult thing to learn in making hats is finishing the hats. It takes years. I don't even usually show people how to do it until they've been with me for 5 years. It's a critical part of the hat-making process and it can go bad really quickly."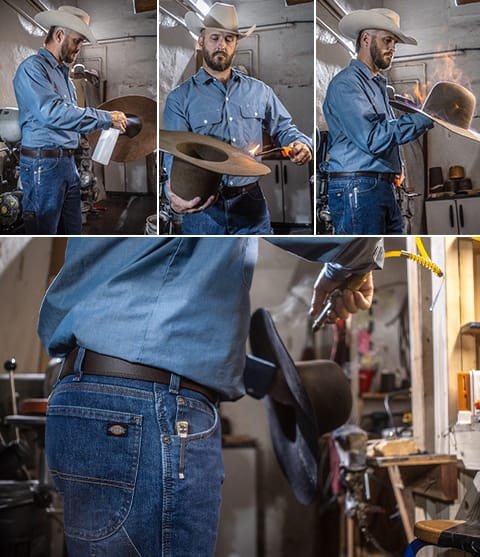 Teaching others this process is critical to the company's growth. The amount of time it takes a customer to get their hat is much longer than it was back when Jeff was doing everything from sewing to shaping the hats himself. Now he has 10 employees and the wait is 4 to 5 months because so many people want a custom hat from Biggar Hats—a major sign of their success.
The projection of Biggar Hats shows that it will be in the family for generations to come, as his son shares his passion. "My son following in my footsteps and having him work with me is just an absolutely unbelievable experience."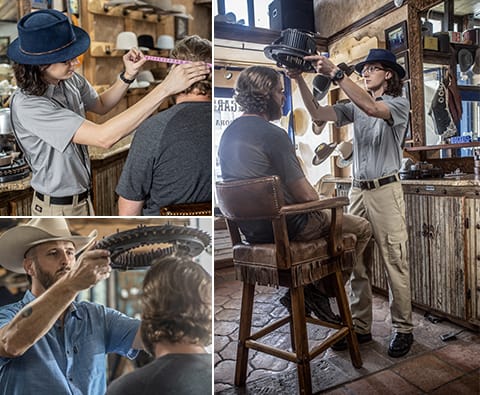 He loves that his son gets to walk some of the same path he did, but he also explains that it's not exactly a cushy job. "When you're making hats, it's a dirty job. In all parts of the process, you're getting fur all over you, you're getting grease all over you, and there's something in having clothes that will stand up to it, it's extremely important." No one understands that more than Dickies, offering durable gear that keeps you cool and comfortable for tough jobs like hat making.
For Jeff, it's not all about the money, but also about the process.
What really drives me in making hats is that it's a beautiful process to me. You know there's a million doctors, there's a million lawyers, but there's only so many hat makers. If you're not striving to be the best there is, then why are you doing it? That's what we strive for here."
Check Out Biggar Hats: Website | Facebook | Instagram |