The Never-Ending Inspiration of a Tattoo Artist
Meet Chance, owner of Fade to Black Tattoo Company
In a chair he's likely spent hours tattooing custom pieces for each of his customers, sits Chance Webb—a slender guy with his long hair pulled back into a bun and a smile on his face that often turns into a laugh. He's in his mecca—his own tattoo shop where he gets to fulfill his passion of being a master tattoo artist. The name of the tattoo shop he owns, Fade to Black Tattoo Company, is artistically sprawled across the wall behind him in a white font set against the black background. Aside from what the Dickies tee he is wearing hides from view, every other part of skin is covered in ink. He admits his favorite color is black, which can be seen by the all black tattoos he has.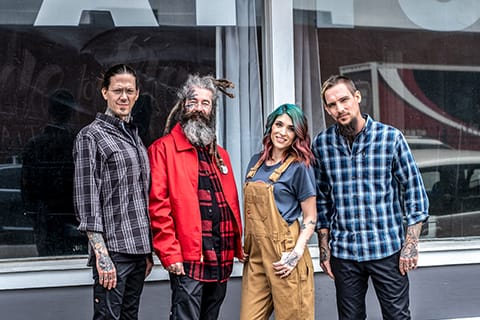 This industry is more of a lifestyle. You become a tattooer. You're living as a tattooer. It's not a job that you go to. You live it. It's not something that you do; it's something that you are.
Chance has been tattooing for over 25 years, but it was a rough beginning. When he was young he knew he wanted to be an artist and found a way through tattooing. He says, "I saw a tattoo when I was 12 years old and decided then that I was going to be a tattoo artist and nothing got in my way. Everybody telling me I couldn't do it, or shouldn't do it, or telling me it wasn't worth it." He admits that he didn't know how he was going to support himself tattooing, but he thought it would be easy and fun, so he began the long journey that got him to where he is today.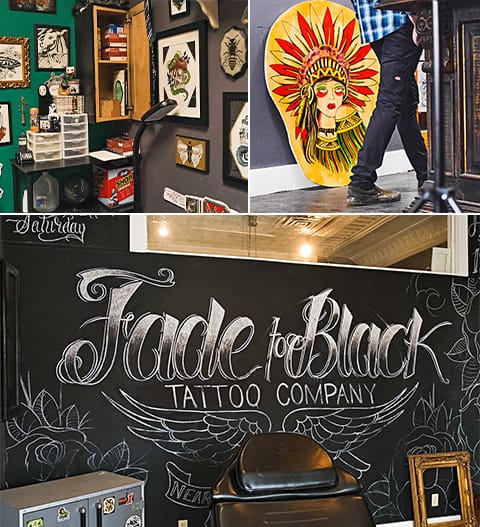 I was 19. There weren't that many tattoo shops and people didn't support themselves tattooing back then. So, the idea of supporting yourself as an artist, doing something that most people look down on was like an uphill battle, but I wasn't going to stop.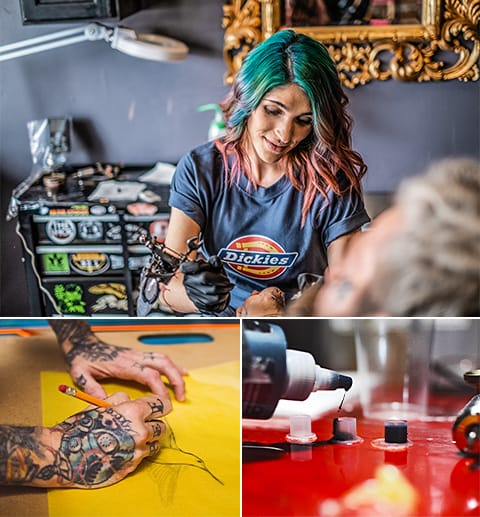 Chance made it in the industry with friends that believed in him, but there is still one thing he has to keep in check. He says the biggest obstacle is, "Myself. It's one of those things you have to find out. How far to push yourself to do the things you want to do. People don't get in the way. You do. You're in your own way most of the time." The whole shop is full of independent contractors so they all have the same hindrances. They have to push themselves to be what they want to be because they all work for themselves. Chance also has advice for those wanting to get into the industry.
If you want to be a professional tattooer, I would suggest—even before you step into a tattoo studio—to learn everything you can about drawing and illustrating because basically we're just illustrators. We're just using skin as a canvas. The more you know, the more you understand your own self and your own art, the better you can translate that to skin. If you don't have that base it's going to be tough.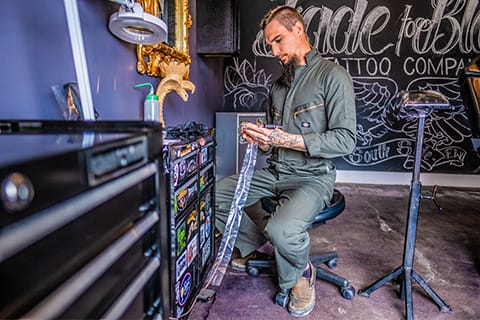 Chance has his own process each time he meets a client so he can make sure to grasp exactly what they want. He says, "In the beginning, I try to understand what the customer wants to portray in their art or design. Mostly, it comes from concentration and me trying to pull out of them why they're getting tattooed. From there, I just sketch until I get something that feels right and go from there." When asked what he does when he gets in a creative rut, he breaks his calm demeanor and is a little stumped by the question, finally admitting that he has never been in one.
We get our inspiration from other people as tattooers for the most part because we're helping people express themselves. So, I have an endless amount of information coming at me and a lot of it is stuff I've done before and some stuff is new. I don't ever feel not creative.
Chance is very inspired by the people he meets and by the entire world around him. He says, "Nature inspires me. People inspire me. Everything inspires me. The idea that we get to create our own world inspires me." He wants his customers to be able to express themselves exactly how they envision, so he tries to help them get there through tattoos. Apart from getting inspiration from so many people, he also makes sure not to put himself as an artist with one specific style.
I tattoo in many different styles. I try to keep my artistic abilities open so when a customer asks for something, I have to ability to do it. If you try to do one style all the time I feel like you pigeonhole yourself into that and so you're eliminating these other options to be creative.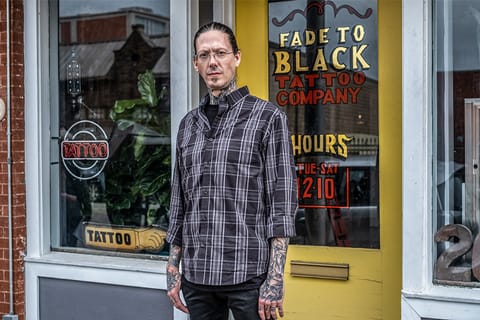 For his final question, we asked Chance to describe what makes all the hard work worth it. He immediately answered, "The freedom we have with our time. If I were to say one thing that I enjoy most about what I do it's the ability to do what I want, when I want, because I control all my time. I don't have to punch a clock or answer to anyone." It's like that for all the contractors in his shop, and if you ask Chance we know he would say giving them that freedom to be who they are is the best part of his job.
Follow Fade to Black Tattoo Company: Website | Facebook | Instagram