Revving Up with Swifty's Motorcycle Shop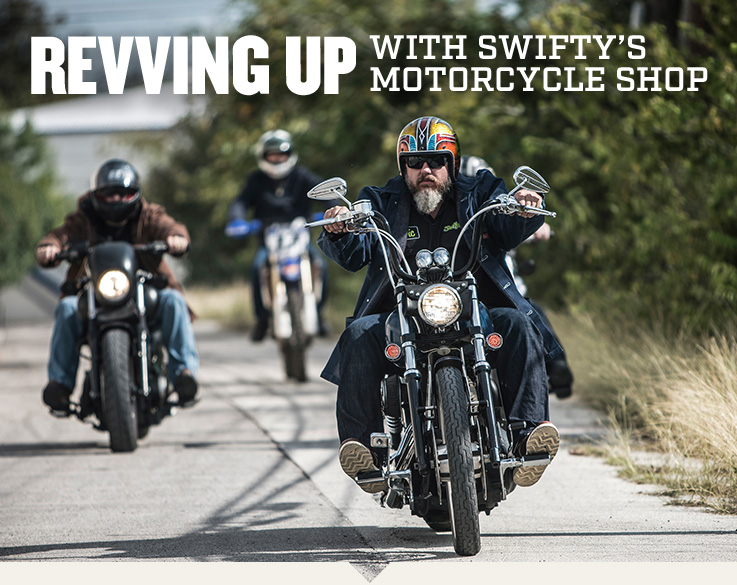 January 20, 2016 –
Hooked On A Feeling

Bikes are his business: Eric Swift at his Fort Worth shop, Swifty's Motorcycle.
On the rugged foothills of the Appalachian Mountains, Eric Swift learned to ride a Puch moped ... at only 8 years old. "Oh, it was nuts," he remembers. "I learned [quickly] all the things a new motorcycle rider would, like when you turn on gravel, you crash. So I learned not to do that too often," he says with a laugh. A gift from his dad in the late 1970s, mopeds were popular in Eric's hometown of Athens, Ohio.
"The moped gave me freedom and sent me on a journey. I got to do things a lot of other people wouldn't do. I've been hooked ever since."
After his family moved to Texas in 1982, Eric started riding dirt bikes and motorcycles. With tougher rides, his equipment needed more repairs, but Eric quickly picked it up. "I always worked on my own bikes. I really liked turning wrenches on motorcycles." After working at a parts and accessories retailer and traveling all over the country, he noticed a major gap in the industry. "A lot of shops wouldn't work on certain motorcycles or wouldn't fulfill the needs of quality or turnaround times. I knew [my own business] could be successful."
A Business is Born
In 2012, Eric opened Swifty's Motorcycle in Fort Worth, Texas, a shop committed to working on all kinds of bikes, from Harley Davidsons to scooters. Finding the right team to run the shop meant hiring technicians just as passionate about service as they were about bikes. "Every bike that comes in has a story," says Eric. "It could be just a small kid's dirt bike, but that's his whole life and we're going to put the same pride into the work." It was also important that Eric and his team have different strengths to help as many customers as possible. "I couldn't ask for a better crew. They're riders and they're here to make people happy. They love every aspect." Another thing they all love? Dickies workwear, which has become the crew's unofficial uniform. Eric says they all rely on Dickies' durability to get the job done.
"We need clothing that's going to take a beating, whether we're soldering or welding or doing oil changes."
For tech member Jeremy, the toughest job so far was repairing a six-cylinder Honda Valkyrie. "It had a lot of rust in the tank and extra debris that got down in the carburetors and each cylinder had its own carburetor." Eric jumps in proudly, "Those carburetors have to be completely synchronized so they all work in unison and Jeremy got it done."
Get the gear the Swifty's Motorcycle Shop crew trusts.
In between jobs, the tight-knit crew has fun in the shop, with group pranks, battles for radio control (tech member Jolly is an Iron Maiden fan) and even art projects. Says Eric,
"I just love the team, it's a cool environment."
What makes it cooler is that Swifty's is a family operation; Rachel, Eric's wife, takes care of the shop's finances and keeps the guys in check. Eric is the first to admit, "If it wasn't for her, Swifty's wouldn't exist."
Take a behind-the-scenes look at Swifty's Motorcycle Shop today.
On & Off the Job
When the team isn't at the shop working, they're … still working on bikes. Tech member Jake is all about dirt bikes. "I've been racing since I was 5 years old. There's a local track I [still] ride at a lot and it's really fun." Jolly likes building rat rods. "I pretty much just tinker around. If it's not a motorcycle, it's an old car."
As a self-proclaimed "motorcycle guy with a car problem," Eric's currently working on a 1995 GEO Metro and making it into a ice cream truckstyle ride. Because no matter the ride, it's the passion that keeps them going; it's why Swifty's is a success today.
"I'll work [sometimes] until 3 AM, and then it's 8 AM and I'm stoked about going to work again," says Eric. "Your legs hurt, your feet hurt, your mind hurts, but you're there because you love it."