Creating Art You Can Wear
Meet Sofia, Artist and Creator of Fashion Line MUCHO
The best part of working in my field is honestly meeting new people and exploring different places I might not have visited if it weren't for art. I love the fact that even if I'm not physically present, my art can be somewhere across the country, worn by someone walking down the street, or seen by someone passing one of my murals, and it gives me the motivation to continue to get myself out there." - Sofia
Sofia Enriquez is a Mexican-American artist born in Indio, California. She graduated from Otis College of Art and Design in 2014. Now she owns her own business, paints murals, creates large scale art installations, and paints on clothing.
"I wanted to do fashion design, but I was really more interested in the artistic aspect of clothing. I created MUCHO, which is a line of clothes I paint on as one of a kind pieces of art. I've also painted over 2 dozen murals nationally and internationally since I graduated from Otis, and I'm excited to see where else my art is going to take me."
Sofia has always been artistic. She started painting in the 6th grade as her favorite form of communication. In high school, she painted a lot more on clothes for friends for fun events around town. "My fashion was mostly second-hand clothing which then shifted me to paint on clothes and alter them to help me feel more like myself."
Today, she connects with people by creating custom clothes because she feels like it changes the relationship people have with clothes once there is art thoughtfully and painted onto each unique piece.
What makes my painted clothing unique is the narrative in the clothing. I like how it can make people stop and stare at my outfits, which can throw people off sometimes. I like striking up the conversation. It brings people to talk more and see more, instead of just looking."
Sofia finds her inspiration to do such pieces through her family's background. She has a huge Mexican family, but unfortunately, she doesn't know a whole lot about them. However, she hears their stories and it sparks her imagination to create pieces of art with fun characters, colors and Spanglish terms that she weaves into her paintings.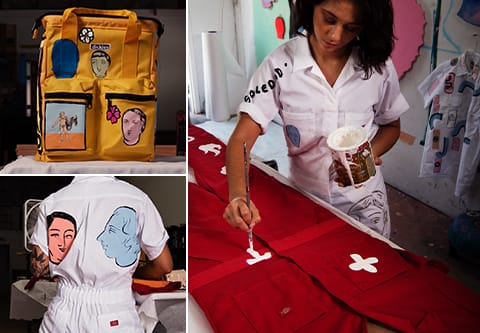 Sofia does come across challenges though in her work. Her most challenging job so far was at the Coachella Music and Arts Festival 2019. She set out to create her largest series of sculptural paintings she's ever done, but she's confident about her work. She says, "It was physically, creatively, and emotionally challenging. Because it was so complex, it was also really rewarding. I am thrilled with the outcome of the work this year!" She plans to take the challenges she has faced and the community she has grown to be a part of as inspiration for her future goals. Art enriches her life as a tool to enjoy the quirks of life.
I have so much more to learn from this job, but I am happy and open to the challenges, failures, and rewards. If the art looks easy, that usually means it's had a long complex journey."
She's taking her art to another level in the upcoming year. She wants to create more clothes with MUCHO, make more public art nationally and internationally, focus on a show she's doing in Palm Desert, California, and install new work in Los Angeles after the new year. Who knows, you might see a mural or an original piece of clothing walking down the street some time as Sofia continues to spread her passion around the world.
Check Out Sofia's Work: Website | Instagram |