Learn the differences in women's work pants
Dickies began creating workwear for hard-working women that needed durable clothing in the 1940s. The women's pants were, and still are, designed to fit the female form, with functionality and versatility in mind. We know the importance of understanding the fit, which is why we've made it simple to understand the differences in our core women's work pants with this fit guide.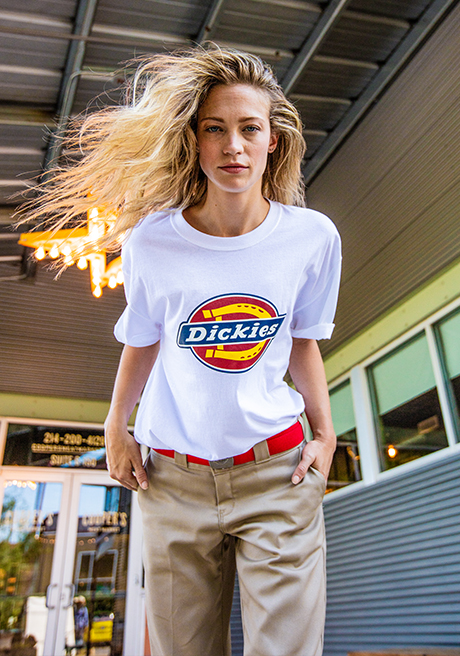 Original Women's Work Pants
(774)
Using the same durable and long-lasting polyester/cotton twill from the men's silhouette, the 774 pants were created. It is a take on the Original 874 Men's Work Pants with an updated women's cut. This low-slung version of the men's classic pant offers an iconic silhouette made just for her. For a higher rise option with added stretch, try the FP774F.

★★★★

★
-- Texas
"Good cut for a female. Low waisted and roomy in the hips and thighs. They repel water splashes, stains, and dirt wipes off. I'm a firefighter so this is key!"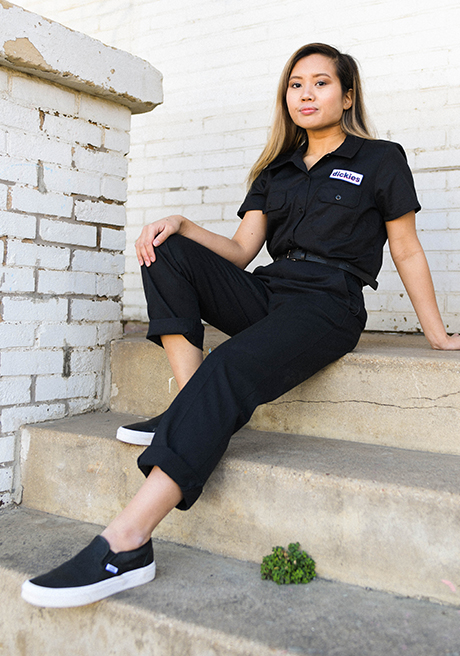 Women's Work Pants with FLEX
(774F)
The best-selling work pants for women now come with the Dickies Flex technology, which have a softer feel to them and added stretch throughout the entire pant. Sitting close to the natural waist, this pattern was adjusted to fit her curves with all-day performance. This high-rise, full leg pant is not only functional, but right on trend. Try the FP776F for a slimmer leg.
★★★★★
-- Texas
"Love Them. I bought them for work and they are very comfortable."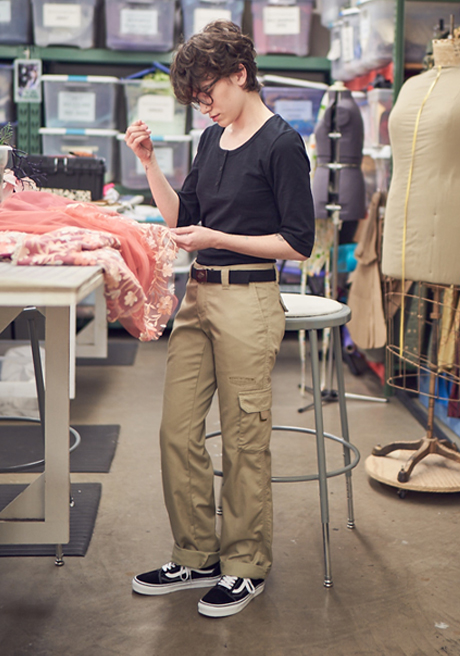 Women's Cargo Pants
(FP777)
Dickies has been making women's workwear for over 70 years. The functional design of cargo pants has been a go-to for work—packed with pockets to store her necessities. Made with 100% cotton fabrication for a softer design, they're seen at work on casual days when she needs storage space with the extra pockets, or on an off day when she's going for a work-inspired look. Try cargo pant style FP888 for option with added stretch.
★★★★★
-- New Mexico
"The only low-cut cargo pants for women I could find at a decent price."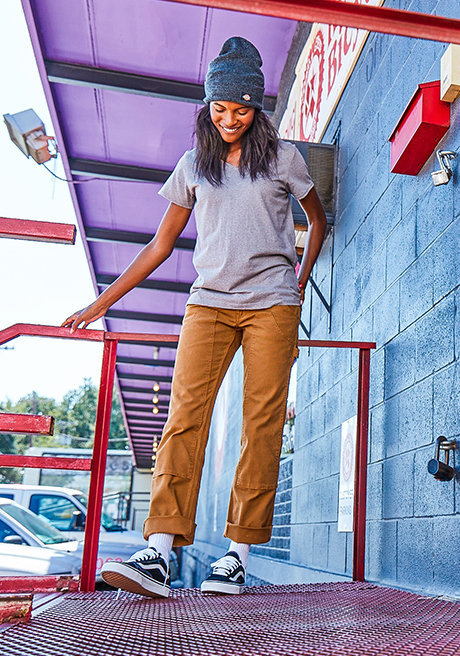 Women's Double Front Carpenter Pants
(FD2500)
These new women's duck pants with stretch fabric are equally durable and comfortable. Designed by women, for women, these carpenter pants have a contoured waistband to prevent gapping in the back, as well as multi-functional pockets for any work tools she may need. They were also made with double front panels and knee pad openings to allow added protection when she needs it.
★★★★

★
-- California
"These pants are seriously awesome. Tool pockets on both sides of the legs, double paneled fabric in the front for all the wear and tear on the job, and they stretch when you bend."
Compare Styles
Style
Original Women's Work Pants

(774)

Women's Work Pants With Flex

(774F)

Women's Cargo Pants

(FP777)

Women's Double Front Carpenter Pants

(FD2500)

Silhouette
Relaxed Fit, Straight Leg, Sits Below Waist
Relaxed Fit, Slight Wide Leg, Sits Above Waist
Relaxed Fit, Straight Leg, Sits Below Waist
Straight Fit, Sits Below Waist
Fit Suggestion
Size down for more form fitting look
Size down for more form fitting look
Size down for more form fitting look
True to size
Material
8.5 oz. Twill, 65% Polyester/35% Cotton
8.3 oz. Stretch Twill, 65% Polyester/35% Cotton
7.2 oz. Twill, 100% Cotton
9.8 oz. Brushed Duck,
98% Cotton/2% Spandex
Technology
Wrinkle resistant, stain release
Wrinkle resistant, stain release
-
Stretch fabric
Color Options
Black, Dark Gray, Dark Navy, Military Khaki
Black, Dark Navy, Desert Khaki
Black, Desert Khaki, Dark Green, Brown
Brown Duck, Moss Green
Functional Pockets
4
4
7
7
Closure
Hook front closure
Hook front closure
Button front closure
Button front closure