There's never been a better time for beer in America. With the rise of microbreweries across the U.S., it's easier than ever to find a new favorite or walk right into a local brewery and sample a local favorite right from the tap. The microbrewery sensation has spread across the nation - and thankfully so. These days, when office hours are over, there is a diverse selection of beers to choose from.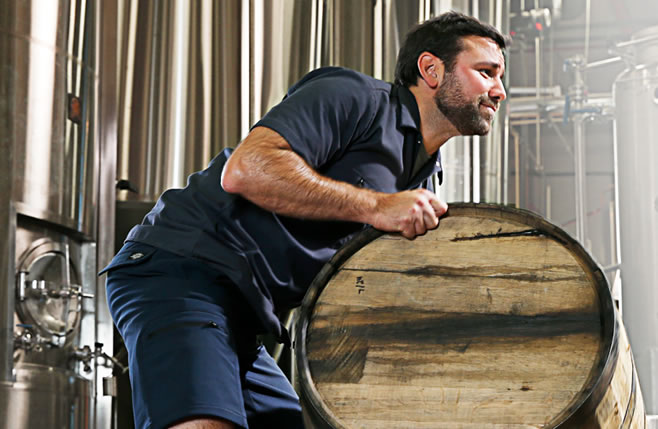 And we know what we're talking about. Dickies headquarters is located in a hotbed of delicious cold-beer-making aficionados – Fort Worth, Texas. The City of Fort Worth even provides maps to tourists showing the best route to each of these local beer meccas – dubbed the 'Ale Trail' – that features a whopping ten local breweries.
Okay, we'll stop bragging.
But don't fret. With the number of microbreweries climbing in every state and the selection constantly growing, we know how hard it can be to find your next go-to brew. So we've decided to create a list of illustrious breweries from every state in the union to help you blaze your own Ale Trail - one state at a time, one sip at a time, one smile at a time. Happy trails.
Here's a state-by-state list of revered local brews.
Alabama Local Beers
El Gordo Russian Imperial Stout (Good People Brewing Co)
Cabernet Barrel-Aged Laika Stout (Straight to Ale)
Spring Street Saison (Avondale Brewing Co)
Lamplighter IPA (Lamplighter Brewing Co)
Alaska Local Beers
Alaskan Amber (Alaskan Brewing Co)
Crazy Ray's IPA, Sitka Spruce Tip Ale
Arizona Local Beers
Dragoon IPA, White Russian Imperial Stout (Sun Up Brewing Co.)
Tower Station IPA
Arkansas Local Beers
BDCS (Ozark Beer Co.), Paradise Porter (Diamond Bear Brewing Co.)
Mother's Winter Grind
California Local Beers
AleSmith Speedway Stout – Vietnamese Coffee
Supplication
101 North Stigmata American Red Rye Ale
Colorado Local Beers
Odell Drumroll APA
Tweak (Avery Brewing Co.)
Ten FIDY Bourbon Barrel Aged (Oskar Blues Grill & Brew)
Connecticut Local Beers
Coriolis (New England Brewing Co.)
Dogs & Boats (Beer'd Brewing Co.)
Delaware Local Beers
90 Minute IPA (Dogfish Head Craft Brewery)
Dominion Millennium – Oak Aged (Old Dominion Brewing Co.)
District of Columbia Local Beers
On the Wings of Armageddon (DC Brau Brewing Co)
Desolation (3 Stars Brewing Co)
Florida Local Beers
Hunahpu's Imperial Stout (Cigar City Brewing)
Snowed In (Funky Buddha Brewery)
Georgia Local Beers
Cosmik Debris (Creature Comforts)
The Didjits Blood Orange IPA (Burnt Hickory Brewery)
Hawaii Local Beers
Bikini Blonde (Maui Brewing Co.)
Coco Loco Toasted Coconut Brown Ale (Kona Brewing Co.)
Idaho Local Beers
Dagger Falls IPA (Sockeye Grill & Brewery)
Pursuit of Hoppiness (Grand Teton Brewing Co.)
Illinois Local Beers
Bourbon County Brand Barleywine Ale (Goose Island Beer Co.)
Sure Bet (Pipeworks Brewing Company)
Indiana Local Beers
Zombie Dust (3 Floyds Brewing Co.) Pawpaw (Upland Brewing Co.)
Iowa Local Beers
King Sue (Toppling Goliath Brewing Co.)
Redband Stout (Great River Brewery)
Kansas Local Beers
Ethos IPA (Tallgrass Brewing Company)
Old Backus Barleywine (Free State Brewing Co)
Kentucky Local Beers
Bo & Luke (Against the Grain Brewery & Smokehouse)
West Sixth IPA (West Sixth Brewing Co)
Louisiana Local Beers
Ghost in the Machine Imperial IPA (Parish Brewing Co)
Irish Channel Stout (New Orleans Lager & Ale Brewing Co)
Maine Local Beers
Lunch (Maine Beer Co)
Allagash Farm to Face (Allagash Brewing Co)
Maryland Local Beers
Stillwater/Westbrook Gose Gone Wild (Stillwater Artisanal Ales)
Rise Up Stout (Evolution Craft Brewing Co)
Massachusetts Local Beers
Very Hazy (Tree House Brewing Co)
Headroom (Trillium Brewing Co)
Michigan Local Beers
Founders Canadian Breakfast Stout (Founders Brewing Co)
Rye Hipster Brunch Stout (Odd Side Ales)
Minnesota Local Beers
Abrasive Ale (Surly Brewing Co)
Twisted Trace (Minneapolis Town Hall Brewery)
Mississippi Local Beers
Crowd Control (Southern Prohibition Brewing)
Gulf Porter (Lazy Magnolia Brewing Co)
Missouri Local Beers
Derivation #6 (Side Project Brewing)
Barrel-Aged Abraxas (Perennial Artisan Ales)
Montana Local Beers
Ivan the Terrible Imperial Stout (Big Sky Brewing Co)
Tumbleweed IPA (Lewis & Clark Brewing Co)
Nebraska Local Beers
HopAnomaly (Nebraska Brewing Co)
Carpe Brewem Imperial Mango IPA (Empyrean Brewing Co)
Nevada Local Beers
Bourbon Barrel Russian Imperial Stout (Joseph James Brewing Inc)
War Dog Double IPA (Big Dog's Draft House)
New Hampshire Local Beers
Hopulization (Stoneface Brewing Co)
Smuttynose Baltic Porter (Smuttynose Brewing Co)
New Jersey Local Beers
Sunday Brunch (Kane Brewing Co)
Café Y Churro (Carton Brewing Co)
New Mexico Local Beers
Project Dank (La Cumbre Brewing Co)
Pilsner (Marble Brewery)
Sierra Blanca Imperial Stout (Sierra Blanca Brewing Company)
New York Local Beers
Double Dry Hopped Mylar Bags (Other Half Brewing Co)
Evil Twin Double Barrel Jesus (Evil Twin Brewing)
North Carolina Local Beers
Red Angel (Wicked Weed Brewing)
Snozzberry (Green Man Brewery)
The Event Horizon (Olde Hickory Brewery)
North Dakota Local Beers
Iron Horse (Fargo Brewing Co)
Ohio Local Beers
Bourbon Barrel Oro Negro (Jackie O's Pub & Brewery)
Super Juicy Hop JuJu (Fat Head's Brewery & Saloon)
Oklahoma Local Beers
Pirate Paradise (Prairie Artisan Ales)
Pirate Bomb! (Prairie Artisan Ales)
Oregon Local Beers
The Peach (de Garde Brewing)
The Abyss (Deschutes Brewery)
Adam From The Wood (Hair of the Dog Brewing Co)
Mother of All Storms (Pelican Pub & Brewery)
Pennsylvania Local Beers
Java Cask (Victory Brewing Co)
St. Oner (Tired Hands Brewing Co)
Rhode Island Local Beers
Derivative: Citra (Proclamation Ale Co)
Captain's Daughter (Grey Sail Brewing of Rhode Island)
South Carolina Local Beers
Mexican Coffee Cake (Westbrook Brewing Co)
Boy King Double IPA (COAST Brewing Co)
South Dakota Local Beers
Pile O' Dirt Porter (Crow Peak Brewing)
11th Hour IPA (Crow Peak Brewing)
Tennessee Local Beers
Noble Cuvee (Blackberry Farm Brewery)
Homestyle (Bearded Iris Brewing)
Dogfish Head World Wide Stout (Dogfish Head Brewery)
Texas Local Beers
Atrial Rubicite (Jester King Brewery)
Shiner (Spoetzl Brewery)
Blood and Honey (Revolver Brewing)
RAHR'S Blonde (Rahr & Sons Brewing Company)
Utah Local Beers
Big Bad Baptisa (Epic Brewing Co) Crooked Line:
Labyrinth Black Ale (Unita Brewing Co)
Vermont Local Beers
Heady Topper (The Alchemist) Ann (Hill Farmstead Brewery)
Virginia Local Beers
Master of Karate (Aslin Beer Co)
Kentucky Christmas Morning (Hardywood Park Craft Brewery)
Bourbon Barrel Porter (Alewerks Brewing Company)
Washington Local Beers
The Rusty Nail (Fremont Brewing Co)
Old Birdbrain (Black Raven Brewing Co)
Space Dust IPA (Elysian Brewing Company)
West Virginia Local Beers
Devil Anse IPA (Greenbrier Valley Brewing Co)
Big Timber Porter (Big Timber Brewing)
Wisconsin Local Beers
Serendipity (New Glarus Brewing Co)
Brewers Reserve Bourbon barrel Cassian Sunset (Central Waters Brewing Co)
Wyoming Local Beers
Asterisk DIPA (Melvin Brewing/Thai Me Up)
Zonker Stout (Snake River Brewing Co & Brewpub)
Cheers from your favorite workwear company – Dickies!