Dickies' History
Through its dedication to innovation and continual customer contact, Williamson-Dickie Mfg. Co. has transformed itself from a small bib overall company to the largest workwear manufacturer in the world. Sold in every state in the U.S., Dickies now offers a broad spectrum of work garments ranging from work pants and work shirts to denim jeans and women's workwear. Since its beginnings in 1922, every piece of Dickies workwear has stood for the quality, toughness, and pride that embodies the spirit of the American worker.

C.N. Williamson and E.E. "Colonel" Dickie began their business careers in the "vehicle and harness" business in Bryan, Texas. In 1918, they made what turned out to be a momentous decision when they and a few friends established the U.S. Overall Company. Then, in 1922, C. Don Williamson joined with his father and cousin to buy 100% of the overall company on a one-third-each basis and renamed it Williamson-Dickie Manufacturing Company.

From its early years, Williamson-Dickie enjoyed steady growth, slowed only by the Great Depression, and during World War II, the company was sequestered to produce millions of uniforms for the nation's armed forces. In converting to civilian production after the war, C. Don Williamson began a strategy of geographical expansion and established new production facilities, warehouses, and sales territories throughout the United States. In the late 1950's, Williamson-Dickie became an international company by expanding into the European market and the Middle Eastern market - where Texas oilmen introduced the Dickies brand to Middle Eastern oil fields.

While Williamson-Dickie began as a bib overall company, today it has grown to be the number one manufacturer of work apparel worldwide. By continually expanding and updating its selection, Williamson-Dickie now offers garments ranging from its staple work pants and work shirts to items such as women's workwear, chore coats, and denim jeans. Dickies® workwear is currently sold in all 50 states and throughout the world in countries such as South Africa, Australia, Russia, Chile, Japan, Iceland, Canada, Europe and Mexico.
---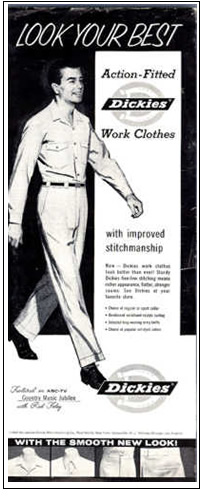 1950s
This ad from the late 1950's illustrates Dickies' continuing emphasis on quality for the consumer. Now, as then, Dickies is renowned for the quality of the garments we produce, and also for our styles, our price, and our guarantee that you as our consumer will be satisfied.
---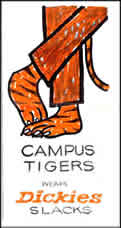 1960s
Dickies ads have not always been product driven. This ad from the 1960's pushes "the main man on campus" idea. A person who wears the Dickies brand knows and understands that they want quality assurance as well as the best price for the clothes they wear.
---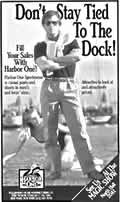 1980s
Dickies doesn't just produce work clothes. This ad from the 1980's illustrates our product line for the casual clothes wearer. We don't produce our Harbor One line anymore, but we do have a wide selection of Denim, Women's Wear and Kid's Wear for you to choose from.
---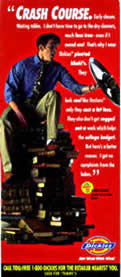 1990s
Many ads in the 1990's have been focused on the career a person in the workforce may have. And how Dickies continues to make sure that whatever their job may be, if they are wearing the Dickies brand they are wearing more than 75 years of quality, durability, and comfort.
---