Many schools have standardized dress codes for students. These dress codes take away the complexity and guesswork required when it comes to purchasing school clothes, but if your kid is interested in standing out, it creates a new challenge. How to stand out while following the rules? Here are a few ways to personalize school uniforms and get a look that is all their own.
Highlight Their Individuality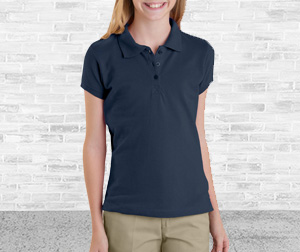 Standardized dress code requirements may not be limited to neutral colors. By choosing bright colored options, you've found an alternative way to highlight your kids' individuality. The bright orange or royal blue short sleeve polo shirt for girls is just one ideal choice to help your bright student reveal her true colors.
Other options that deviate slightly from the norm--yet maintain school dressing standards--can help your child feel more unique. The girls' Super Skinny Fit Pant is another option that showcases a stylish fit that can help set her apart.
Factor in Accessories
Accessories and layering is the main way to stylize average looking uniform choices. This Sanded Duck Hooded Jacket is a warm yet "cool" option for boys or young men who want to diversify their style. Girls can also really make a statement by sporting a light or dark wash denim jacket or a long-sleeve flannel shirt over their uniform.
The backpack is the ultimate back-to-school accessory and one of the simplest canvasses for personalization. Available in multiple colors, our Classic Backpack can be easily embellished with patches and pins that show off your kids' favorite interests. Our camo or hot pink Student Backpack will also boost and brighten your kids' entire personalized look.
Multiply Their Options
When your kids have more options available to them, they can mix and match outfits to create diversity throughout the week. Our online girls uniform builder or boys' uniform builder makes personalizing their wardrobe easier than ever. They can simply choose a top, a bottom, and an accessory to view an entire put-together outfit.
Pass the "After School Test"
After school activities often leave little time for kids to change into their street clothes. When your kids can wear their uniforms after school and look even more stylish than their non-uniformed friends, you've achieved the ultimate balance of fitting in while standing out.
---