What you wear when you dig, plant, mow and prune is a matter of personal preference. That said, many home gardeners and professional landscapers choose to wear bib overalls because they offer top-to- bottom comfort and convenience... something other American workers have known for decades.
It Started in 1906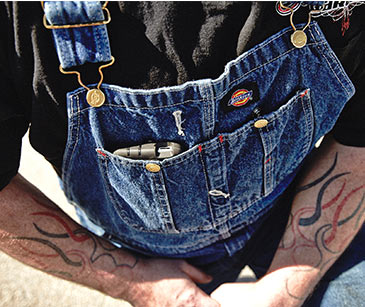 The hickory stripe bib overall first appeared around 1906 and was a big hit with railroad engineers and other hardworking Americans. Dickies started its manufacturing business in 1922 making denim bib overalls in Fort Worth, TX. These same overalls, with a few modifications, have become a staple in the workwear industry for almost a century. Like farmers and ranch hands, gardeners and landscapers buy overalls because they are comfortable, durable and highly functional.
Comfort and Fit
The roomy fit gives you plenty of leeway to squat, sit, stretch, stoop, reach and climb. This roominess is important for just about every task you do from bending over to plant seeds and prune evergreens to mowing lawns and chopping down trees. The way overalls fit also helps keep you cool because there's more room for air to circulate. With no belt needed, there's nothing to bind or cinch you uncomfortably at the waist. And they come in big and tall sizes as well as women's overalls. Plus, men's bibs and women's bibs have more pockets than most other landscaping workwear. Compared to jeans or traditional work pants, bib overalls have a pocket for just about everything from pens, pencils and small tools to your cell phone, ruler, screw driver, handkerchief, wallet, seed packets, and a lot more. All this makes them a practical choice.
Dickies overalls owe their durability to two things: quality fabric and construction details. We use tightly woven denim and duck fabric that withstands wear and tear. And Dickies overalls are built to last with double- and triple-stitched seams, metal buttons and adjustable loops and slides at the shoulders.
If you've never owned a pair of men's bib overalls or women's bib overalls, it's time to check them out. Here are some features that make the overall a premium workwear for gardeners and landscapers alike.
Stonewashed Indigo Bib Overall
This denim overall delivers broken-in comfort right from the start.
Buy Now
Here's what wearers of our men's bibs and women's bibs have to say --
---
"My wife has wanted a pair of overalls for about 3 years. Ordered them for Christmas for her and she just loves them. Best product out there." -- Geminiman98, OH
---
"Dickies overalls are a favorite for weekend yard work. They give freedom of movement with no bunching up or binding. Put them on and bend over and pick those weeds, plant flowers or dig that hole for new roses! Thank you, Dickies, for making such a comfortable item!" -- Styling, Sacramento, CA
---
"I bought these overalls to do yard work. They are working out extremely well. Very soft and comfy." --Old Stud, TX
---
"Dickies overalls are the best for me! There are so many great features, #1. lots of pockets, #2. no belt to tighten, #3. I don't have to keep tucking in my shirt tail, #4. very strong material #5. Indo blue goes with everything." --Water Wizard, Sanford, NC
---