Metal Sculpting with David Madero
A Dickies Maker Story
Meet David Madero, Metal Sculptor
David Madero was born in El Paso, Texas. Since both his parents were born in Mexico, David grew up living back and forth between the U.S. and Mexico. He describes his upbringing as chaotic due to the moving, but he feels extremely blessed to get to experience different countries, languages and cultures. Today, David is a full-time metal sculptor, furniture designer and owner of Madero/Co., a welded art company. He still describes both the U.S. and Mexico as his home and travels between both regularly.
At Madero/Co., they use an assortment of different welding and forging processes that include Mig, Tig, Stick and Oxyacetylene. His specialty is working with carbon steel, stainless steel, copper and bronze. He personally works on his smaller sculptures and has a team to assist with his monumental art and functional art pieces.
He attributes his path into welding to his father, who was an old-school welder. His father had been doing metal art since the 50s. David sees him as a pioneer, back when welding was pretty much only used for industrial and commercial purpose.
"There was something about seeing my father surrounded by sparks and melted metal that just sucked me in. I remember being about 4 or 5 when I bugged the hell out of him until he finally let me mess around and do some welds on scrap metal. Right then and there, I just knew that this is what I wanted to do for the rest of my life."
David feels inspired today by everything around him. He walks through life daily, imagining everything turning into metal.
"This includes what I see, feel, dream about, and even the occasional nightmare. I could be meeting you for the first time and my thoughts would be, how would your face, your expressions and gestures look like as a metal art piece?"
He sees the best part of working in this profession is the camaraderie that exists in the metal art world. He says the most hardworking, trustworthy people he knows are metal workers where everyone is down to earth and blue collar. He describes it as one huge family helping each other out.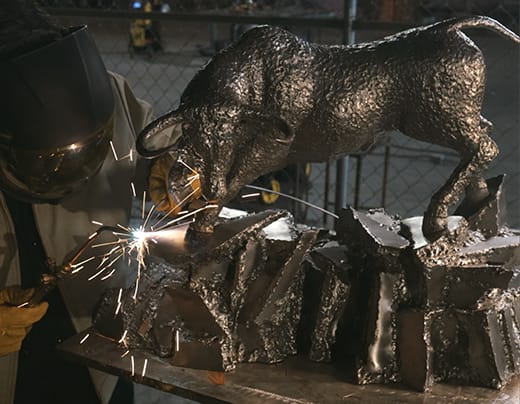 "One of my all-time favorite pieces that I've done is a 20-foot-tall steel sculpture of an eagle fighting with a snake. This monumental sculpture represents the image on the Mexican flag, and it was placed right smack in the center of Mexico City, for millions to see. It also serves as a monument to craftsmanship and hand-made details, as it was meticulously done with thousands of steel feathers and scales. It is quite a sight to see!"
David appreciates the performance and longevity in the materials that he works with and feels this medium is the perfect way to communicate what is in his head.
"By using my hands, where words just can't ever do it justice. It's my own personal and unique way of expressing ideas to others, where it doesn't matter what language you speak or where you're from to understand in some way what I'm trying to pass on."
He has very specific creative processes based off the type of work he is doing. His speculative art process is free and loose. The clients that buy these sculptures are receiving exactly what he was feeling and what was in his imagination at the time of its creation.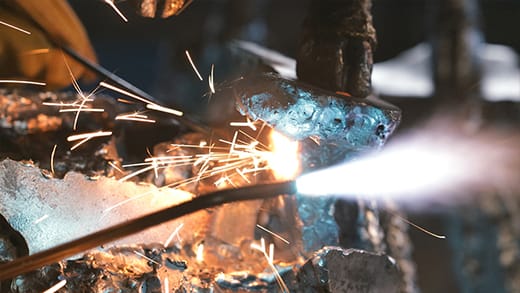 On his commissioned art process, he is more focused and in tune with the scope of the project needs.
"I go into full-on detective mode and sometimes I have to catch myself from obsessing over and studying things for too long."
Although he rarely finds himself in a creative rut, when he does, he finds that a glass of single malt scotch gets his creative juices flowing.
"I'm fortunate to always be working and producing artwork of all sizes for individual clients, businesses and large companies. And I just want to keep doing more and more, and bigger and bigger works of art in the future. I have a relentless artistic appetite that will never be filled. This drive that I have is largely due to the feeling I get when seeing a client's face, when they see their finished sculpture for the first time, or that unbelievable satisfaction I get when I'm able to represent and honor large groups of people in cities or companies, with a single work of art. Sculpting is very gratifying, yet I am also very impassioned about using my platform to keep promoting and teaching welded art to others. All in all, my future is looking to be covered in molten metal."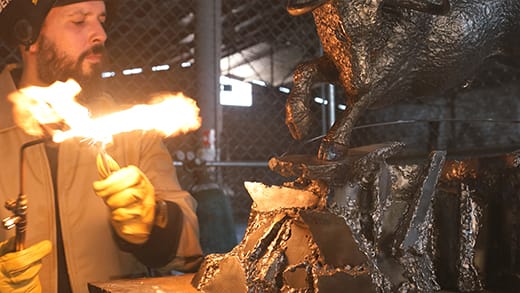 Outside of metal work, David does see himself as a whiskey aficionado and collector. He is also very passionate about teaching metal art to the public. He has been invited all over the world to teach Welded Art Workshops in countries like Japan, Italy, Kazakhstan, Mexico and the U.S.; where he has been able to show each of his students how to finish their own piece of art.
David sees a Dickies label as synonymous with hard work. He's been wearing Dickies for decades and puts them to work for him daily.
"Dickies have been with me through hell and back with all the welding, flames and grinding of metal that I do. I'm loyal for life when I see great quality and durability in a brand."
Check Out David's Work: Website | Facebook | Instagram |