Fort Worth-Based Apparel Company, Love Remixed
A Dickies Maker Story
Meet Barton Fluker, Owner of Love Remixed
"My work is inspired by seeing others be the best they can."
Barton Fluker was born in Birmingham, Alabama. When he was a junior in high school he relocated to Orlando, Florida. As soon as he finished high school, he joined the Air Force and was stationed in Abilene, Texas. After 4 years of service he decided to start his path in entrepreneurship while he worked at a restaurant to make ends meet as a manager.
Currently, Barton works as a manager for Kent and Company Wines. He enjoys people and lifting them up. He feels he can do this through his merchandise while also working at voice over work and in the music industry.
Barton was inspired to take this path by watching the world completely change from what he knew as a child. He created these entities of love and admiration in his work because of the world and watching people being unkind to one another. He decided to take a negative and turn it into something positive.
"Working with local artists and musicians have really opened my eyes to what the world needs more of. And that's love, compassion, music and kindness."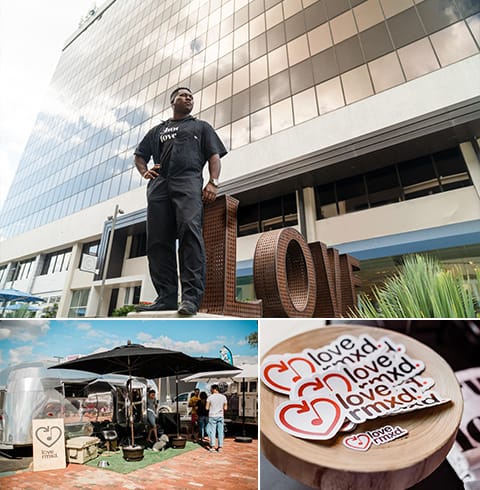 Barton finds inspiration for his designs by seeing others be the best they can. He is driven by the creativity of people and the loves others feel from his work. His favorite piece of merchandise he created is a tie between his "Choose Love" design and his "Love Who the F You Want" design. His designs push for self-love and acceptance in a world that needs it.
"Love Remixed sole purpose is to exude love through style by offering unique products that also offers a solution to an enormous community issue."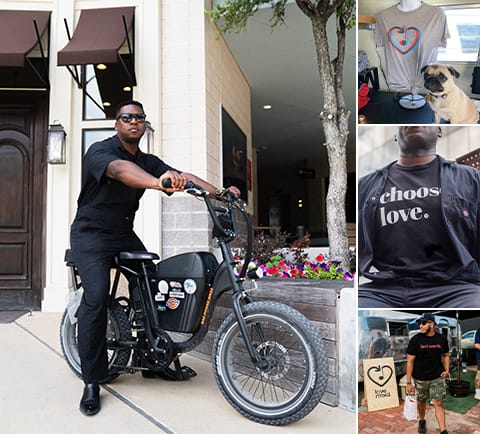 Barton pairs his designs with his favorite Dickies styles because he appreciates the message of self-expression that Dickies speaks.
"I feel Dickies is rooted in love for Fort Worth and the merchandise is the best quality."
Check Out Barton Fluker at Love Remixed: Website | Facebook | Instagram |