Fort Worth-Based Coffee Shop, Black Coffee
A Dickies Maker Story
Meet Mia, Owner of Black Coffee
"I am inspired by my children. I want them to know that there aren't any limits to what they can do. I want them to understand that the world is not black and white, no one controls your destiny but you, and that happiness is within. When they see me living my dream, and still being happy even through the hard times they will understand all of that."
Mia Moss was born in Wichita Falls, TX and raised in Fort Worth. She grew up on the east side of Fort Worth, attending public schools there. Right out of high school, Mia worked at Seattle's Best Coffee and it was there she developed her love for the art of coffee. She briefly attended UTA but had to leave to provide care for her ailing mother, who eventually passed away due to thyroid cancer.
Mia has always had an entrepreneurial spirit and found herself very inspired by her husband who owns a suit company. His parents have encouraged both to be active in the community and she feels they stirred that entrepreneurial spirit inside of her. She is also very passionate about how her children view the world and wants to set the bar for them by living her dream.
"The best part of working at a coffee shop is actually working at a coffee shop. I really love coffee, and I get excited learning about coffee."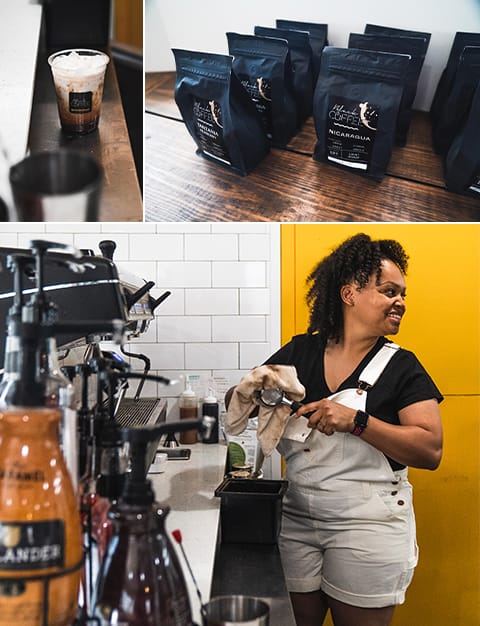 During the process of opening her shop, Black Coffee, Mia felt like she was on autopilot. She doesn't feel like this is a negative thing, as it allowed her to get through the journey without her focusing on negative thoughts and self-sabotaging herself. Managing the stress this way, Mia opened her business successfully in 2018. Mia recognized a need for a coffee shop in east Fort Worth and combined that need with her passion for a drink loved by millions. Since that time, Black Coffee has won "Best of Fort Worth" in 2020.
"Coffee bridges gaps and creates relationships."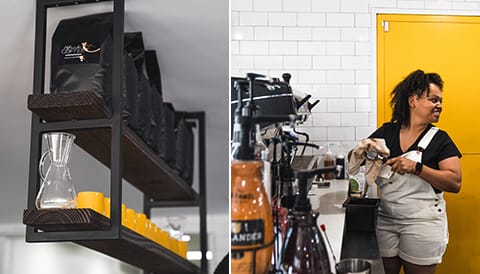 Mia is proud to be a minority woman operating a successful business. She feels her coffee shop enhances Fort Worth's east side and culture that was already there. She hopes to help build up the community while keeping them caffeinated.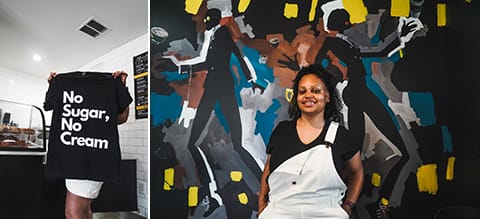 Dickies has always been an important staple in Mia's wardrobe.
"Wearing Dickies in Fort Worth has always been a thing in our community. Of course, so many occupations used their jumpsuits as uniforms, but growing up it was fashionable to have a different color jumpsuit. Then it became the place we would go to get uniform pants for my nephews. Dickies is one of the oldest companies I can remember growing up. It says Fort Worth. Dickies tells us that they are ours to make and that means that I am in control. I made my life what it is."
Check Out Black Coffee: Website | Facebook | Instagram |