Creating Memories On The Go with SYNC Vans
A Dickies Maker Story
Meet Chris Campfield, Partner at SYNC Vans
Building Machines That Make Outdoor Dreams Come True
"Vans are essentially really big toys and when I compare the product I'm helping build now to the homes I have built in the past, the differences are really appealing to me. Because the van is a big fun toy, all of our customers are super happy from start to finish."
Chris Campfield has spent the majority of his career as a residential general contractor building some pretty special homes in Seattle, Sun Valley and Kauai. But when Chris began building custom vans at SYNC Vans, he realized that he could give his clients exactly what they wanted without the long wait.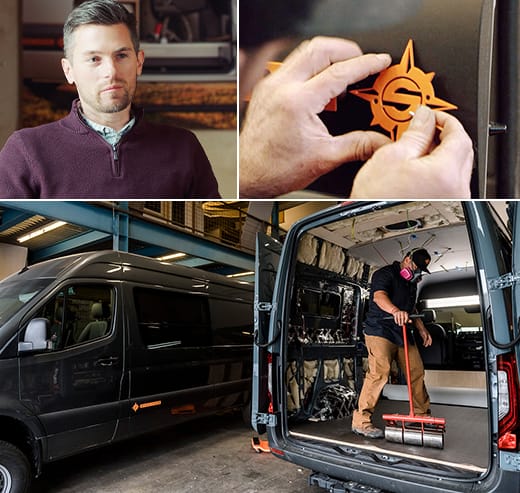 "Compared to building a custom home for two years, the wait time for a van is really short. So, I don't see any of the fatigue in customers through the van building process that I used to see in homebuilding. Overall, working inside the outdoor adventure community, I'm surrounded by people with a shared passion for the outdoors. It's all very fun and exciting to come to work every day."
And that excitement is driven by SYNC Vans' ability to deliver completely customized vans that are uniquely equipped for each customer's specific needs.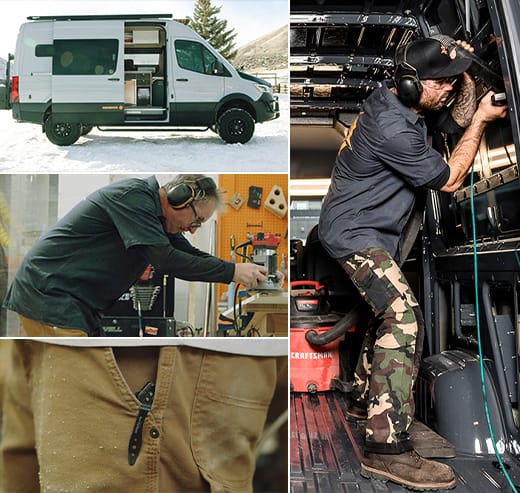 "Every van is uniquely built for its customer, and every customer intends to use their van in different ways. I always have to keep in mind the specific customer we're building for and what their priorities are. For example, there are a lot of different ways to get two bikes on the back of a van, but what is the best way to do it for THIS client?"
They've created vans with sound systems that go to an "11", vans that had an enduro motorcycle garage inside, a van built around the Westminster Dog show and even a van that serves as a mobile equine vet clinic. But what inspires Chris about van building isn't just what the vans can do, but where they can go.
"My work is inspired by building these really cool vans that cause jaws to drop when seen for the first time. Then it is the memories that our customers will create in our vans, the amazing places they'll go, and the new opportunities being so mobile will provide."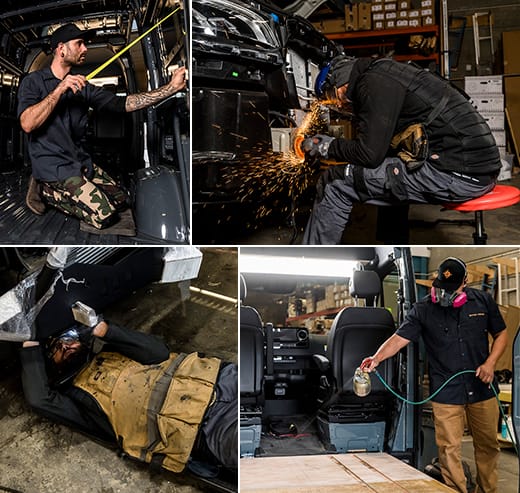 Having the ability to go anywhere and look good doing it isn't just limited to Chris' philosophy on vans, but also to what he wears.
"Dickies makes a high quality and lasting product. The clothes and boots just work. I don't know how else to say it. The clothing makes for comfortable and reliable work clothes that meet our lifestyle and the demands of the shop. We don't mind looking good while we work hard and get dirty."
And getting dirty isn't just part of Chris' job, it's also part of his fun. Whenever he finds himself in a creative rut, he takes his van back out to its natural habitat: the great outdoors.
"I take my van out into nature for the weekend with my family and enjoy the freedoms it provides. Actually using the van as our customers do, always brings me back to a place of creativity."
To Chris, creativity and the phrase "Yours to Make" means that we are all in control of our own destiny.
"If your passion is to fly fish, then tie the best damn flies on the planet. If your passion is programming, then write amazing bug-free code. Mine is camping, so I'm going to build vans that make sleeping away from home as casual and comfortable as possible."
And at SYNC Vans, they play just as hard as they work so that they have an even better understanding of how to exceed their clients' expectations. But even when they're working, it feels like play.
"We're having so much fun, it shouldn't be allowed."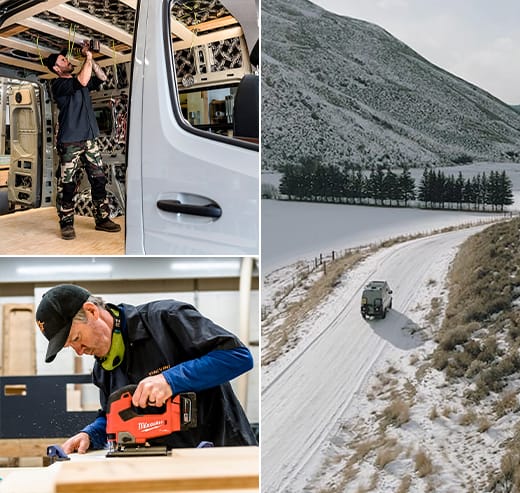 Check Out SYNC Vans: Website | Facebook | Instagram |