Georgia-Based Wooden Maven
A Dickies Maker Story
Meet Char Miller-King, The Wooden Maven.
"I teach woodshop, not only to kids, but to adults – to empower them and help them learn how to use loud, noisy power tools. And give them the confidence that they can do anything they set their minds to."
Meet Char Miller-King, the Wooden Maven of Georgia. But Char hasn't always been a woodworker, in fact this whole journey started over a platform bed.
Char was fresh out of college and moving into a new place with a roommate, when they were shopping for furniture. She fell in love with a bed frame that she couldn't afford, so instead of moving on, she started to look at the bed to see how it was made. Afterwards she gave her uncle, a carpenter-extraordinaire, a call to figure out how to make this bed, and soon enough Char had built her first piece. From there it was off to the races.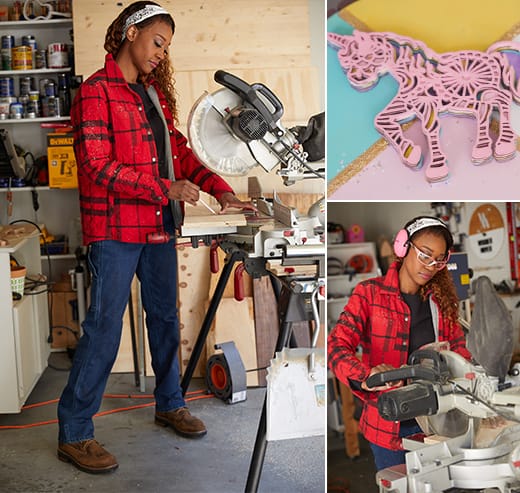 "I know I was created to create things with my hands, so I make sure that I use that and empower other people and make them know that making is accessible to everyone."
The Wooden Maven is a place for people of all ages to get their hands dirty and learn about this skill, hobby, and passion that has made Char what she is. The whole point of her space is to help others ignite that passion and make it a part of their life.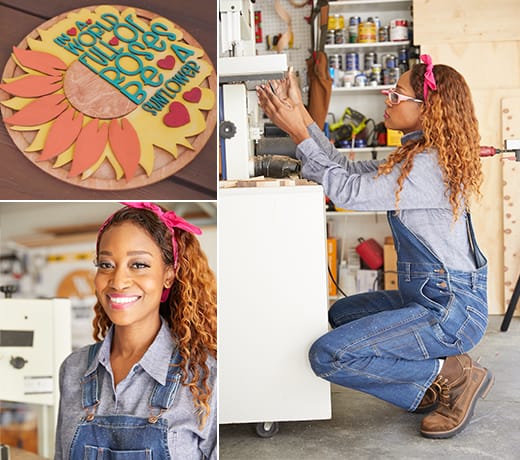 "I want to make sure that young girls as young as seven, know how to use a Miter Saw. And people as old as 80 can reignite that passion they had when they took woodshop 50 years ago."
Char is well aware that she doesn't look the part of what you would think a traditional woodworker to look like and that's great – because she wants to spin that in a positive direction.
Bringing more people in to not only wood working, but into her space to learn is a real honor for her, and she takes that responsibility seriously.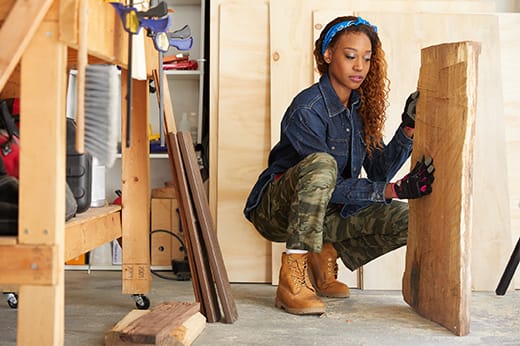 "I think it's really important for people like me to be in this space. I'm an African American woman, I'm a mother, and at first thought you would look at me and not even think I do what I do, and love what I do so much. But I think it is important to be different and unique in this space because I bring a different flavor, different thoughts and perspectives to this space to help people."
Making herself accessible to others is something Char has always prioritized. So, if you'd like to learn more about her, follow her blog, or ask her a question, feel free to check out thewoodenmaven.com.
Check Out The Wooden Maven: Website | Facebook | Instagram