Dickies® To Unveil New Shop Collection Additions at SEMA 2018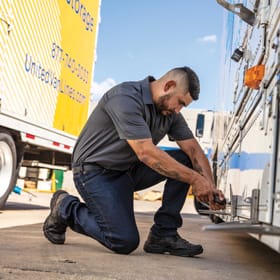 Dickies® To Unveil New Shop Collection Additions at SEMA 2018
New Product Launches Including Temp-iQ™ Cooling Shop Pant and Industrial FLEX Denim, As Well As a Richard Rawlings Signing Event Take Center Stage at the Dickies Booth
LAS VEGAS, NEVADA (October 30, 2018) – Dickies®, the world's leading performance workwear brand, is unveiling its new automotive products at SEMA Show 2018, October 30 - November 2, in Las Vegas. To reinforce Dickies' leading edge in the apparel market as the preferred automotive uniform brand by auto workers, Dickies introduces new, innovative pant additions to the Shop Collection. The Dickies Shop Collection is made up of the highest quality performance work clothing for mechanics, technicians, parts personnel and service writers. Additionally, booth visitors on Tuesday, October 30 will be treated to an autograph signing with Richard Rawlings, star of Discovery Channel's "Fast N' Loud".
The new Shop Collection additions to be displayed at the Dickies booth #10445 in the LVCC's North Hall include:
Temp-iQTM Cooling Shop Pant: Dickies is reinventing every gearhead's closet staple with automotive pants designed to cool you down. These auto pants are designed with thermoregulation technology that provides extreme moisture wicking while simultaneously deploying a cooling sensation to manage body heat. Mechanical stretch fabric to provide ease of movement, a rubberized scratch resistant tack button and six pockets including a cell phone pocket and a three-channel tool pocket round out the pant's features.
Industrial FLEX Denim Collection: Dickies Industrial Flex Denim Collection, which includes styles for both men and women, is 50 percent stronger than standard all-cotton denim while also providing comfort through FLEX fabric. Proven to retain its shape through 50+ IL washes, the new denim collection has the same look, feel and fit of Dickies' most popular retail styles giving the wearer versatility to move from on-to-off the job activities with ease.
"Today's automotive professionals, particularly the new millennial workforce, demand comfort and versatility in their uniform," said Alex Smith, Senior Vice President, Dickies Occupational Wear. "We address these demands through the latest additions to our Shop Collection. We believe these additions take concerns like the management of body heat and the need for your uniform to move seamlessly from work to life and solve them."
Attendees to the show can stop by the booth on Tuesday, October 30 from 1:00 p.m. to 3:00 p.m. for an autograph signing with Richard Rawlings, famed muscle car enthusiast and star of Discovery Channel's "Fast N' Loud." Dickies is the official apparel of the show's featured auto shop, Gas Monkey Garage.
Additionally, new at the booth this year, Dickies will host a "Dickies Workwear for a Year" raffle. To win complimentary workwear for up to 20 employees, participants should stop by the booth, fill out a short survey and must be present at the booth at 4:00 p.m. on Thursday, November 1 for the drawing.
Can't make it to the show? Learn more here.
About Dickies®
Dickies®, the world's leading performance workwear brand, has provided workers with durable, functional and comfortable workwear since 1922, pioneering such iconic styles as the 874® work pant. A brand of VF Corporation (NYSE: VFC), the Dickies® brand portfolio continues to evolve and today includes modern apparel, footwear and accessories for men, women and kids. The brand's range of products are available in more than 100 countries, allowing individuals around the world to experience the performance of Dickies®. For more information, visit www.dickies.com or follow the brand on Facebook, Instagram and Twitter.