Skip to:
Shirts
|
Bottoms
|
Shoes
|
Socks
|
10% OFF Discount
The Red Lobster dress code for servers and server assistants includes wearing all black uniforms that are neat, clean and professional in appearance. (Ripped, frayed or disheveled clothing or athletic wear is not acceptable. It's also unacceptable to wear tight, revealing or otherwise workplace inappropriate dress.)
Red Lobster provides its servers and server assistants with branded aprons and name tags. Employees are required to provide the following:
Black dress pants
Pants should be durable, comfortable (not too tight) and easy-care. Because servers and server assistants often have to stoop and bend as part of their job, it's a good idea to wear black dress pants that have a little stretch or flex. Also, look for wash-and-wear or easy-care fabric that requires little or no ironing. By doing this, your pants will be wrinkle-free right out of the dryer and you'll save time by not having to iron. If you don't already own black dress pants you can wear as part of your Red Lobster uniform, here are some affordable men's black dress pants and women's black dress pants you can add to your work wardrobe.
Black dress shirt
Red Lobster servers and server assistants are also required to wear a men's black long-sleeve button shirt or women's black long-sleeve button shirt--with or without pockets. The top button can be worn open. Black shirts are a change from the traditional white oxford shirts and ties previously worn by Red Lobster employees. Black shirts look more modern and are more practical for working with food.
Black non-slip shoes
The Red Lobster dress code requires black non-slip shoes for safety. Shoes can be slip-ons or ties as long as they have slip-resistant soles that provide traction on wet or greasy floors. Good restaurant shoes provide both comfort and safety. Get tips for choosing the best shoes for waiters and waitresses.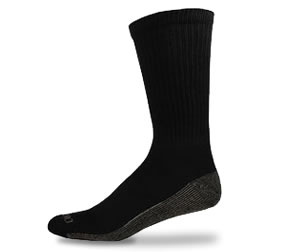 Black socks or Hose
You may wonder why Red Lobster--and so many other restaurants--require strict adherence to their dress codes. For one thing, employees with uniform appearance make it easier for customers to pick out who is an employee, especially in high volume restaurants such as Red Lobster. Confused customers aren't happy customers so restaurant uniforms help create a better customer experience.
Putting on a uniform also puts an employee into on-the-job frame of mind. A sharp-looking uniform and professional appearance also shows customers you take pride in what you do and how you look.
---
Exclusive Offer from Dickies
Enjoy 10% OFF your total purchase.
Confirm your employee eligibility
in quick and easy steps.
Verify Now
You will not leave the Dickies site.
---