---
New Scrub Styles
---
What's trending with scrub wearers? Scrubs can now be as fashionable and flattering as they are functional and comfort-friendly. Take a look at what's happening with 2018 scrubs styles, especially when it comes to women's scrubs.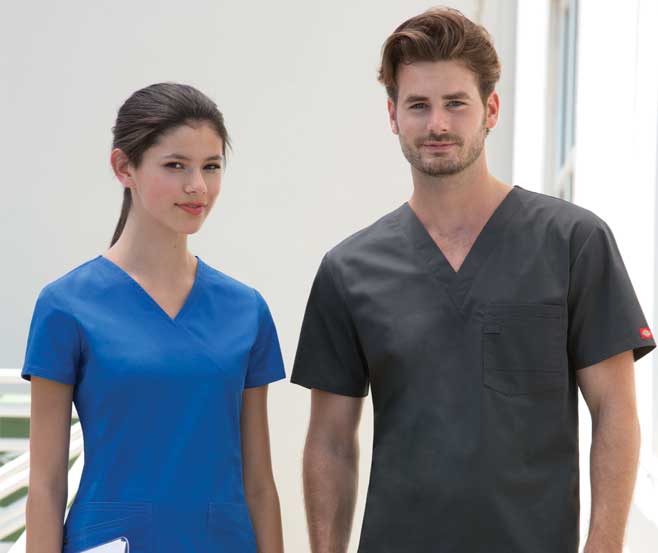 Make A Fitting Fashion Statement
Scrubs no longer need to be boxy, boring and basically blah. Take for instance Dickies new Essence V-Neck Scrub Top and Essence Mock Wrap Scrub Top for women. Both have a flattering feminine fit with princess seam detailing at front and back, plus the choice of a super flattering v-neck or mock wrap front. Add the fact that Essence scrubs come in a full range of sizes--from XXS to 5XL--and you see why these guys are on a fast track to become every scrub wearer's BFF.
Expect More Comfort
Today's scrubs--whether they're women's scrubs, men's scrubs or unisex scrubs--are benefitting big time from advanced textile technology. Look for fabrics that blend durability with comfort and softer appeal. For example, the Essence Warm-Up Jacket, tops and pants are made of a twill fabric that's 78% polyester, 20% rayon and 2% spandex. It's a powerful fiber blend that delivers a long list of benefits from highly durable, fast drying and wrinkle resistant to non-shrinking, breathable, lighter weight and easy care with just enough drape and stretch to make you look and feel great as you move through your day. Whew! This fabric works as hard as you do!
More Pockets=More Efficient
Scrubs are more than just the clothing you wear to work. In today's health care environment where every minute counts and efficiency matters, smarter scrub designs make your job easier. They save you time by keeping the supplies and equipment you use most often on you. Essence women's scrubs feature deep patch pockets with angled entry for easier access to keys, phone, penlight, tape, alcohol prep pads and more. Utility loops inside pockets and on sleeves are great for pens and ID. Cargo pockets can hold a cell phone, pocket money or stethoscope. Plus, more scrubs than ever feature compartmentalized pockets designed to hold instruments and scissors. Check out Dickies Essence Mid-Rise Straight Leg Scrub Pant with coordinating tops and jacket to create your own put-together and very professional look.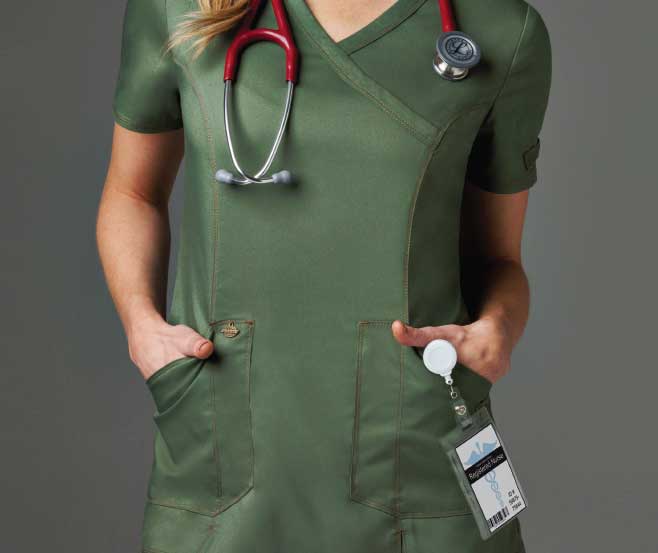 Crazy About Color
Unless your job requires a specific color of scrubs, you now have a whole rainbow of choices for customizing your work wardrobe. Create cute, contemporary looks in hot pink, shades of blue and gray, teal, wine, basic black and more. As you well know, color can be therapeutic for both the one wearing it and those around you.
Wear What You Enjoy ...
...so you can enjoy what you wear to work every shift, every day. The biggest trend in women's scrubs today is that with all the choices you have, you can make a fashion statement without breaking the bank or dress code rules. It's a happy fact -- uniforms no longer have to be uniformly boxy, boring or blah!
---