No matter what type of body you have, you want to look your best at work. And just because your work uniform is a pair of scrubs, that doesn't mean you can't find women's scrubs or men's scrubs that both fit your body and flatter your shape. Here are some tips for choosing scrubs that make you look good.
How to look slimmer and trimmer
For Guys and Gals
Create a longer, leaner look by wearing the same color top and pants.
Create the illusion of being slimmer by wearing darker colors such as black, brown, navy, burgundy or deep green.
Focus attention away from trouble spots with details such as a mock wrap top, strategically placed pockets, princess seams or decorative stitching.
Scrubs that fit are more flattering than scrubs that are too tight, too big or too long. If necessary, have your scrubs altered to fit your body type.
Make your legs look longer with pants that hit at the top of your shoes.
Elongate your legs by wearing the same color pants and shoes.
If you can get by without pockets, flat front pants are slimming. However, scrubs need to be functional, so don't give up pockets you use just to look slimmer.
For Gals
Hourglass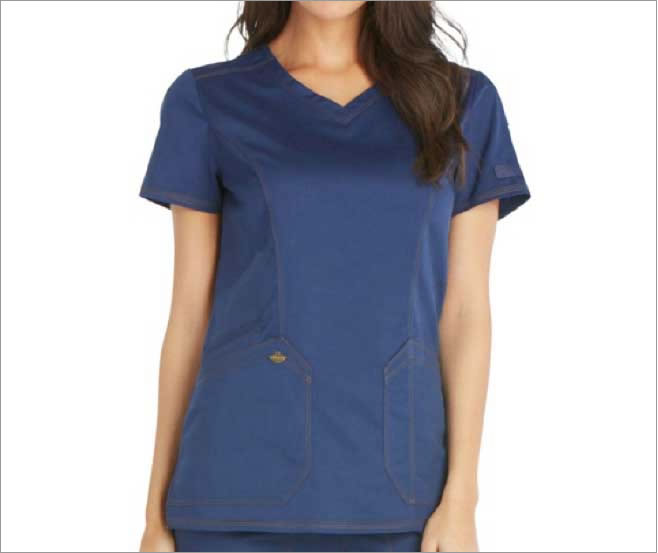 Your waist is well-defined and your bust and hips are about the same. Women with an hourglass body should steer clear of wearing shapeless, oversized garments. Instead, look for scrubs with contours that follow and flatter body curves without being tight. Select a top that highlights your curves and emphasizes your waist such as a mock wrap with a v-neckline scrub. The wrap detail draws attention to the curve between your waist and hips. Princess seams also provide a feminine fit. If you're busty, just make sure a v-neck doesn't reveal too much cleavage when bending over. When it comes to scrub pants, wider legs emphasize an hourglass shape.
Triangle or Pear
Your shoulders are narrow and the widest part of your body is your hips. Draw the eye up with a bright colored or patterned top over dark pants. A show of skin at the neck or chest can shift the focus to your face. Define the narrowest part of your torso with an empire waist, band or stitching just under your bust. Wear a boat or square neck top to broaden your shoulders and balance your hips. Elongate your body by wearing straight or wider leg pants that hit the top of your shoe. Keep the visual line unbroken by wearing shoes the same color as your pants. Pants with stretch provide a trim fit that's also comfortable.
Round or Apple
You have thinner legs and arms with a wide torso and fuller bust. Wear one color. Look for a top that minimizes your midsection such as one with an empire waist. Wear scrubs that hug your bust then flare out from your body to provide body definition. A V-neckline scrub draws the eye to your face instead of your waistline (just be careful of cleavage.) Pants that sit low on the hips de-emphasizing a stomach bulge. Boot cut or flared pants highlight your legs. Avoid tight-fitting tops and pants.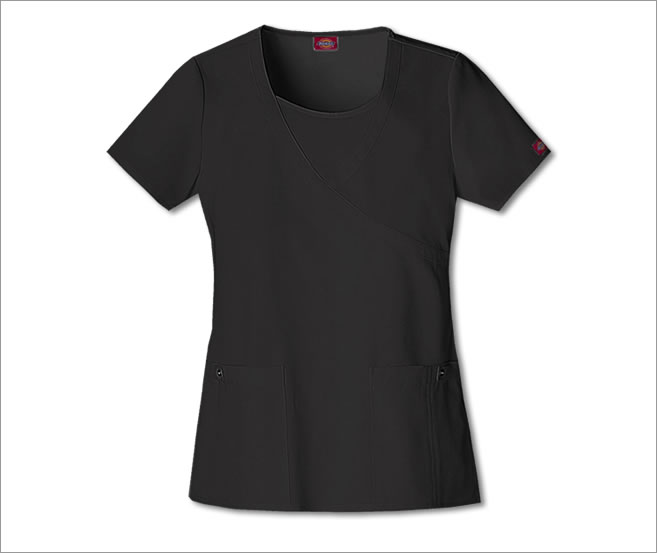 Inverted Triangle or Big Chest
Your shoulders are wide and/or you a big bust with narrow hips. Opt for single-color tops avoiding big prints that draw attention to your upper half. Wear stretch scrubs that are dark with on top and bright on the bottom. To create balance, choose high waisted, wide leg pants. Avoid high or boat necklines that draw attention to the top half of your body. Wear a bra that provides proper support to make your torso look longer. Check your cleavage to make sure you're not over-exposed. If you have trouble finding a flattering fit, have your scrubs altered to create a professional silhouette.
Rectangular or Athletic
Your bust and hips are about the same with little or no definition at the waist. Avoid oversized items of clothing that eliminate shape. Wear scrub pants that cinch your middle, then flare at the bottom. Also try wide-leg pants or boot cut. Draw the eye up with a scoop or v-neckline. Create curves by showing off your top half with a colorful print. Use a jacket to break up your rectangular body shape and create a defined waist. Try tops and jackets with princess seams that create curves.
For Guys
Tips for buying men's scrubs that look (and feel) good.
You're in luck; traditional boxy scrubs look best on men.
Pant rise (distance from middle of the crotch seam to top of waistband in front) determines where pants sit on your body. Low/modern rise pants sit below the natural waist and are not a good choice for guys who are less than average height. They throw off body proportions.
If you legs are longer than your torso, low rise bottoms may work. Otherwise, stick with regular/classic rise pants. If necessary, have scrubs hemmed so they don't drag. They should just hit your shoe.
Muscular men may need to buy larger scrubs and have them altered. Or look for scrubs made of stretch or flex fabric.

---