Is a career in nursing a good fit for a real man? Why would a guy with high MCAT scores prefer nursing to a prestigious career as a highly paid doctor?
These are a few of the stereotypical questions faced down by Greg Focker, Ben Stiller's male nurse character in the hit comedy Meet the Parents. Since the film's release in 2000, the percentage of nurses licensed who are male increased from 5% to over 11%.* Who knows? Maybe Stiller's hapless-yet- good-hearted character inspired more guys to pursue nursing careers. (After all, he DID get the girl.) There are plenty of other good reasons for men to put on men's scrubs and become male nurses.
According to the U.S. Census Bureau, healthcare is one of the fastest-growing industries. And our aging population continues to create increased demand for nurses resulting in low unemployment rates for the profession. In some nursing occupations, unemployment is as low as 0.8%. Unlike professions in which demand fluctuates with the economy, nurses don't need to worry about being out of work.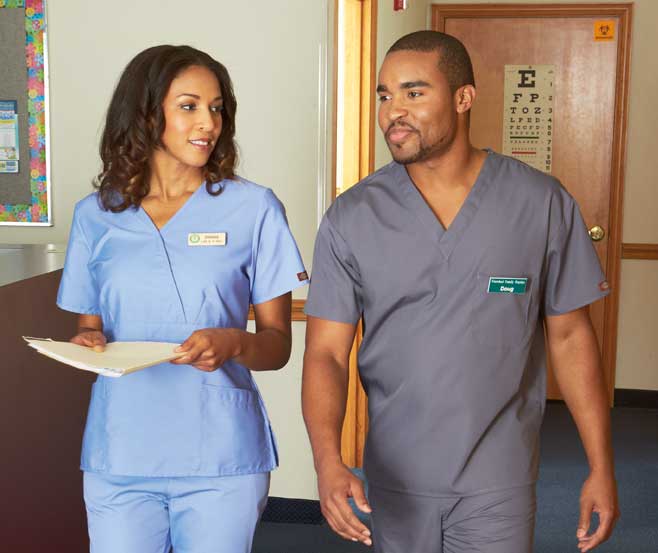 In addition to job security, nursing is a rewarding career choice for guys who want to make a difference in individual lives. One male nurse said he became convinced nursing was for him when he heard a professor explain nursing is the one profession in which you can hold a baby as he or she takes his or her first breath and hold that same person's hand as he or she takes his or her last breath. Nursing is holistic combining technical skills needed to improve lives with emotional and spiritual understanding. It's a combination of scientific analysis and compassionate care.
Nursing is also financially rewarding. Depending on location and occupation, starting salaries can run from $45,000 to $55,000+ a year. There are higher paying occupations in the nursing field. Some higher paying occupations include nurse anesthetists, ER nurses, flight/transport nurses, ICU nurses and psych ward nurses. Always choose an occupation you ultimately enjoy.
Here's another job benefit. The demand for nurses is so great, it provides flexibility--professionally and geographically. Nurses don't just work in clinics or hospital ERs, ICUs and surgery. You can specialize in a wide variety of nursing fields from pediatrics and geriatrics to rehabilitation, cardiology, midwifery and nursing education. The nationwide need for nurses also gives you the flexibility to move and find good jobs all over the country.
There are also many ways male nurses can advance their careers. You can go back for an advanced degree, become an administrator or nursing educator. Nurses with an entrepreneurial spirit can start their own practices such as some nurse anesthetists and midwives have done.
One more thing. As a male nurse, you'll be following in some fairly famous footsteps...in addition to Greg Focker's. Walt Whitman was a nurse during the Civil War. According to The Walt Whitman Archive, "Profoundly moved by the courage and comradeship of wounded soldiers on both sides of the line, Whitman felt that he had glimpsed in the military hospitals the very expression of democratic America, and he cherished that glimpse as a turning point in his own life, what he later termed, the very centre, circumference, umbilicus, of my whole career.'"
Let's just say Ben Stiller and Walt Whitman make for pretty good company.
For all those Male Nurses out there. We appreciate your dedication and hard work and if you ever need some Male Scrubs, don't forget about Dickies!
*Source: The National Council of State Boards of Nursing and The Forum of State Nursing Workforce Center, 2013 National Workforce Survey of RNs.
---