Men's Gen Flex Youtility Scrub Pants
https://www.dickies.com/scrubs/mens-gen-flex-youtility-scrub-pants/81003.html
Promotions
Images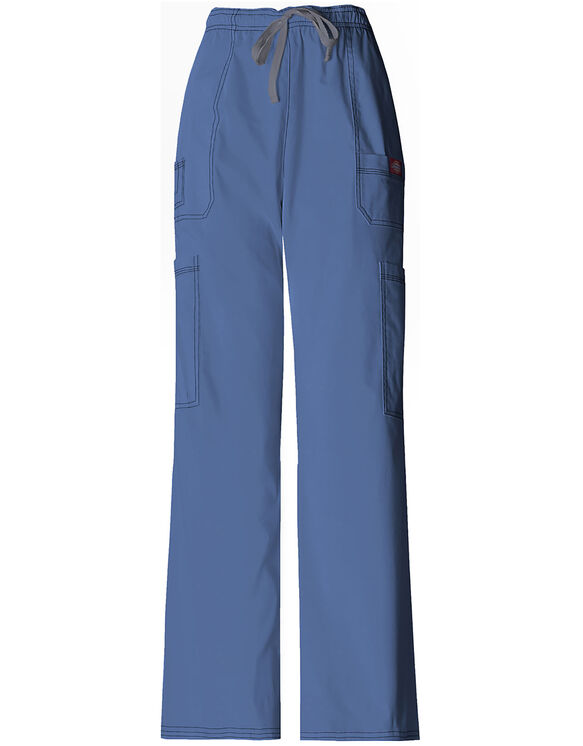 Product Details
Product Description
52% Cotton/45% Polyester/3% Spandex
Elastic at the waistband
Multi-needle top stitching; Contrasting stitching
Two side pockets; Two cargo pockets (see More Info)
Regular sizes inseam length: 32"
Tall sizes inseam length: 34.5
Imported
Stretch twill. 52% cotton/45% polyester/3% spandex. Two side pockets, left pocket has an additional exterior pocket and the right pocket has a multi-needle stitching detail and bungee loop. Contrasting stitching; thread matches drawstring. Two cargo pockets and a back pocket with hook and loop closure.
#DickiesWorkwear
Product Reviews
Men's Gen Flex Youtility Scrub Pants
is rated out of
5
by
42
.
Rated

5

out of

5
by
RNSeabeeChick
from
Great scrubs
I'm a girl who loves loose, comfortable scrubs with lots of leg room and pockets. The Men's Gen Flex scrub pants is the best pair ever, and these even broke up my 2 year affair with Carharts' scrub pants. :D They're perfect, with a big cargo pocket on each leg (further down the leg than most scrub pants= roomier pockets), mini pockets outside the two front pockets allows quick access to the small items you don't want to lose and a bungee loop outside the right cargo pocket which I use for my scissors and needle grippers. I LOVE these pants and have bought them in more than one color for multiple positions. They've never ripped on me either.
Date published: 2016-09-15
Rated

4

out of

5
by
Skishades
from
Good quality
I bought these to replace my 5 year old scubs. I have a 5 year old Youtility scubs and a one year old Youtility scrubs and I have to look at the tags for signs of wear to tell them apart. One pair of scrub bottoms had its draw string damaged by a dryer, but the top looks as good as the newer. I replaced several other scrubs that just showed too much wear and tear. The new scrubs are excellent but the dark green scrub bottom pant had a stitch go all the way through from the cargo pant seam into the pants pocket, limiting the depth of the pocket... Hence the 4/5 stars. The sage green is awesome! My coworker went out and bought a full set when he saw the color in person...though he found the bottoms, which I could not at the time of purchase.
Date published: 2016-04-22
Rated

5

out of

5
by
VAmurse
from
These are the ONLY scrubs I wear!!!
I have been a nurse now for 10 years and I still have and wear the first pair of Dickies scrubs I bought 10 years ago. As a male nurse it wasn't easy finding scrubs that are made just for men...or at least it wasnt 10 years ago. When I first found these scrubs, I fell in love with them. Since then I have cheated on my Gen-Flex for one reason or anothe, but I always came back. I have tried just about every scrub that is made for a man. But none have compared to my Dickies. My only complaint as a nurse at the VA is that they (gen-flex youtility) don't come in Camo (That I have found).
Date published: 2017-12-19
Rated

5

out of

5
by
pharmtech wayne
from
Best men's scrubs pant
I don't usually wear scrub tops because I am allowed to wear logo'd shirts, so this is about the pants. They are the best, by far, of any other. They are comfortable and look nicer - the quality is very noticeable. Two drawbacks: the side cargo pockets are too low in the length of the pant and there is not pen clip/holder. The other pockets are perfect. Unless I am missing another style available elsewhere - including other brands - I rate them 5 star. That is why I just ordered more.
Date published: 2016-08-26
Rated

1

out of

5
by
therapy guy
from
Not Durable or Worth your Money at all!
I bought a pair of these in black July 16, trusting that the Dickies name would hold up to weekly use as a therapy tech in a hospital. Yes,they're comfortable, yes, I really did like them, that is UNTIL they started wearing out around the in-seam. I wore them once a week, washed them once a week, and yet they only lasted about 8 months. I have other scrub pants that I bought from Walmart at a fraction of the price that have held up better than these. Save your money and look elsewhere.
Date published: 2017-04-13
Rated

4

out of

5
by
The 804 Bear
from
Needs some alterations
The pants were a perfect fit for the size but the inseam was too long and they were "bell bottoms". My inseam is a 28 and these were a 32, being big but not tall, I'm use to it. The pants are comfortable and roomy in the seat. The elastic and drawstring on the outside of the waist band are the best. I know how to sew so I did my own alterations.
Date published: 2017-07-02
Rated

5

out of

5
by
PHOGATE
from
Love these scrubs! Been wearing them for years.
I love the Gen flex utility scrub pants made by Dickies. They're perfect for my work in direct healthcare, especially with the number of pockets for things like gloves, vitals equipment, treatments, and personal items. Dry quickly when needing to assist with showering, and have been wearing a pair for almost 6 years now that are still in excellent condition. My only complaint would be the length of the pant legs - I've had to alter every pair to fit properly and wish they came in different lengths. However, this does not prevent me from wearing these scrubs exclusively.
Date published: 2018-02-08
Rated

4

out of

5
by
Robjob
from
Nice fabric blend
I wear scrubs as a nurse and these are comfortable and I like the richness color a lot. The fabric blend should prevent major color fading too. I'm not happy with most of the pockets though because they are not large enough to be used. Can you, will you fix this and send me a notification when you do? I'll buy more at that time.
Date published: 2017-03-19