Find a Store Near You
Company-Owned Retail Store Locations
To Our Valued Customers,
As a method of keeping our community of makers safe during the current COVID-19 outbreak, we've made the decision to temporarily close our stores from March 16 to April 5. We feel the best way our community can help each other is to help slow the spread of COVID-19 by lessening our social exposure. We will keep you posted as we continue to navigate these challenges. Please remain healthy and safe as we navigate these unprecedented times. Learn More
Company-Owned Retail Store Locations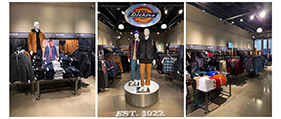 Dickies company-owned stores that offer the full assortment of Dickies clothing and accessories for both work and leisure.
View a listing of our
Company-Owned Stores