Find a Store Near You
Company-Owned Retail Store Locations
To Our Valued Customers,
Some of our stores are now open.
As we've taken steps to adapt to the new normal, we're ensuring you can safely get the workwear you need to do your job.
For more information on the measures we've put in place to protect the health of our employees and customers, please head over to our COVID-19 Info Page and read our FAQ.
Company-Owned Retail Store Locations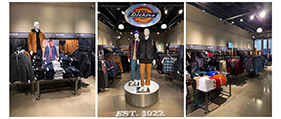 Dickies company-owned stores that offer the full assortment of Dickies clothing and accessories for both work and leisure.
View a listing of our
Company-Owned Stores