Here's some good news for both your wallet and your wardrobe. In today's world of business casual workwear, it's easy to transition a closet full of men's khaki pants, slim fit jeans, oxford shirts, polo shirts and tees from everyday workwear to weekend wear. What follows are some tips for how to do it.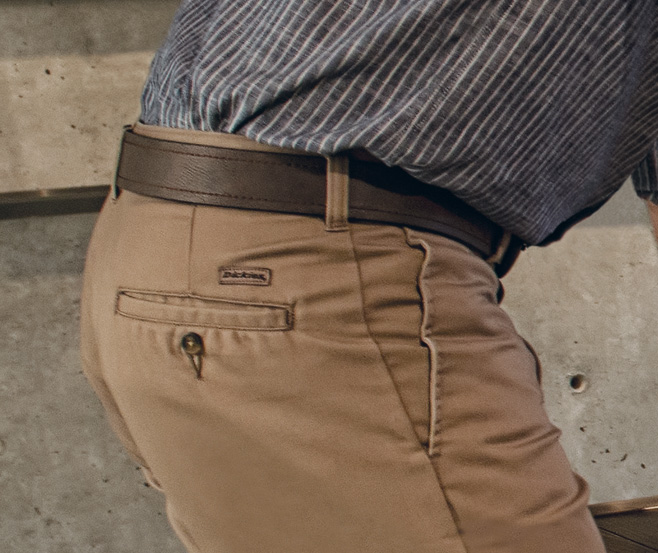 Wear khaki pants with a
nice leather belt for a professional look.
Casual Pants:
Men's khaki pants are a utility player. They're extremely versatile. That's probably why they are a go-to for most guys no matter what they do for a living ... or for fun. For a professional look, you can wear khaki pants with a nice leather belt and oxford shirt or polo. If you're meeting with your boss or a client, you may also want to add a tie or blazer.

But on the weekends, there's nothing wrong with pairing your khakis with a favorite pocket t-shirt, denim jacket or hoodie. Hey, we even sell khakis to skaters who buy our Original 874®Work Pants in all colors--khaki included--because they're stylish, comfortable and highly durable. For a more modern look, check out our men's slim pants with a tapered leg.


Jeans:
Jeans are a wardrobe essential. They've become more versatile (and acceptable for work) thanks to the availability of more fits and more washes. For business casual, it's a good idea to go to the more "formal" end of the denim spectrum with a mid-to-dark wash and no rips or heavy fading. For business casual workwear,
slim fit jeans
in black or dark indigo are spot on. They look sharp with a sports jacket.
After hours and on weekends, anything goes. Frankly, jeans look good with anything from your favorite team's tee and a hoodie to a polo or crisp oxford shirt with a blazer and tie for date night. In addition to today's new fits and washes, modern jeans are available in fabrics that blend denim with Lycra, spandex or polyester for an extra-comfortable flex fit. It's the kind of thing you'll appreciate whether you're working on your car or playing touch football.
Oxford Twill Shirts:
Clean, crisp and easy-care, an
oxford shirt
with a button-down collar and long or short sleeves isn't just for the office. You'll see oxford shirts worn across industries including hospitality and landscaping. If you do your own laundry, you'll appreciate oxford shirts that are wash-and-wear in a cotton/polyester blend that resists both wrinkles and stains.
On weekends, you can wear them open at the neck with the sleeves rolled up. Or as an unbuttoned "over shirt" with a plain tee underneath. One of the most versatile pieces of clothing you'll ever own, an oxford shirt looks as at home with khakis as it does with jeans under a denim or leather jacket.
Polo Shirts & Tees:
Polo shirts and t-shirts are first cousins. Related but different. They're both knit shirts, but tees tend to look more casual. However, a slim fit pocketless tee worn under a blazer or even suit coat can look quite classy. Just make sure to pick the right tee and the right occasion. A polo shirt's collar and sturdier construction make it a good go-to for a casual, yet well-dressed look.
So, if you've got a life outside of work (which we're pretty sure you do), it makes sense to get double-duty from the clothes you have to buy for your job.
---