Non-Stop Remodeling:
The Business of Building Memories
A Dickies Maker Story
Meet Jon Dawson, Founder of Non-Stop Remodeling
Cultivating Passion Through Every Project
Jon Dawson was raised building things with his hands. From laying flooring to at-home projects, passion has always led Jon to achieve his dreams without hesitation.
"So many of us have dreams and passions that we want to experience yet many of us wait a lifetime before we act on them. I think we're in a day and age where jumping wholeheartedly into our passion can be lucrative and be our main hustle."
Jon's ability to hustle saw him through his early years in construction, to finishing college and becoming an entrepreneur. After moving from California to Central Texas, Jon followed his passion as a general contractor and started Non-Stop Remodeling, specializing in new construction, restoration and remodels. For Jon, the focus is always on delivering his clients a quality product. But these days, bringing life back to restoration projects is what keeps him most busy.
"Our number one thing that we do is bring old properties or old homes back to life and keep them authentic to their original essence of when they were first built."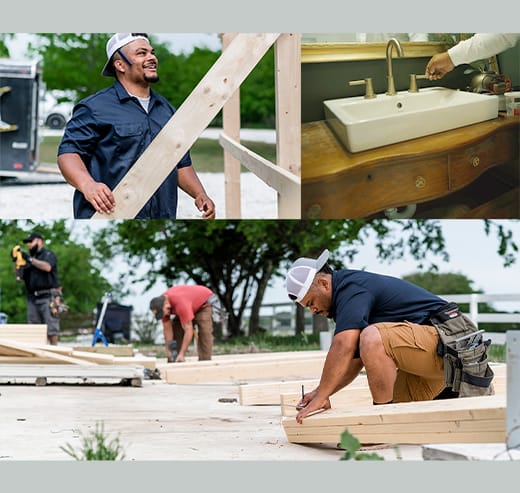 Jon and his team share a common bond through the "circle of life" when it comes to restoring old properties to something new, all while working toward a vision together. One of Jon's favorite restorations included a 1920's Craftsman home in downtown Waco, TX. He commends his team on becoming emotionally connected to such a restoration, working together in unity despite the challenges faced daily on the job site. Even as they embark on a brand-new build, Jon and his team realize that one day down the road, the property has the potential to be restored and create new memories for future owners. It is never lost on Jon that what he builds, or re-builds, has the potential to bring a lifetime of experiences for his clients and their families.
"I love making memories. When you build a house or remodel a home, you're giving a family the ability to make memories for years to come. And when they sell that house, or they hand it down to their kids, more memories are made."
Along with providing his clients a foundation to build memories upon, Jon also enjoys working with his diverse team in the creation of a shared goal. Despite their differences off the job site, Jon's team continually comes together to deliver on a collective vision for each project. Jon believes that there is a tremendous amount of self-worth that comes from building something with your hands, and as part of a team. His passion for people, building relationships and an overall sense of unity are what Jon describes as the best part of working in the field.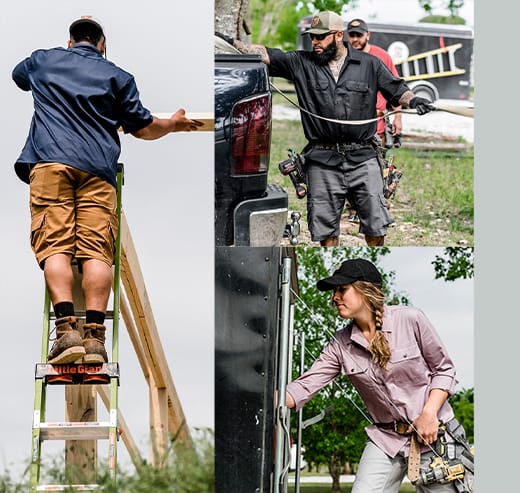 "We all don't think the same, believe the same things, come from the same place. But in the end, we all unify, become one big team and create something amazing."
Just as Jon relies on his team to deliver a consistent, quality product when it comes to the goals and growth of his business, he also trusts the durability of Dickies to keep him working his hardest, so he can focus on his builds.
"What I wear to work is very important. When you're getting covered in mud, dirt, dust and all sorts of other things that you may find on a jobsite…if your clothing can't stand the test of time, you will constantly be buying new clothes every single week."
Having hassle free workwear that is built to go the distance allows Jon to continue to cultivate inspiration in everything he does. His secret? Love.
"As cheesy as it sounds, love inspires my work today. I'm laughing at myself right now for saying this. But it's true, when you can spark someone to tap into the love they have for others, and for themselves, that is an amazing feeling. We all need more of that."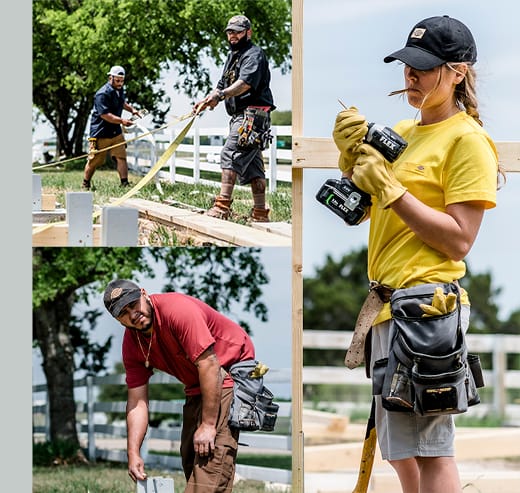 Check Out Non-Stop Remodeling: Facebook