Dickies® is Now the Official Workwear Outfitter of Detroit Speed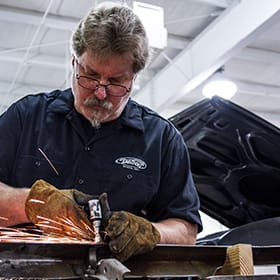 Dickies® is Now the Official Workwear Outfitter of Detroit Speed
Two leaders in the automotive space will extend their partnership at SEMA Show in Las Vegas.
FORT WORTH, TEXAS (October 16, 2018) – Dickies®, the preferred brand for the automotive industry, expands its leadership and legacy in the space through a unique partnership as the official workwear brand of Detroit Speed, Inc., a company best known as an award-winning manufacturer of aftermarket performance suspension for muscle cars and trucks. This partnership is the first of its kind for Dickies and will be publicly introduced at SEMA 2018 in Las Vegas later this month.
As the official workwear of Detroit Speed, Dickies will outfit 50+ Detroit Speed employees with work apparel from the brand's Shop Collection, a line specialty-built for today's automotive workforce. The Dickies Shop Collection features a wide variety of products for men and women including, shirts, pants, shorts, coveralls and jackets. Designed to allow workers to maintain focus on getting the job done, the Dickies Shop Collection's advanced features include:
Shirts and pants engineered with durable, lightweight FLEX fabrics that move with - not against - the worker
Pants trimmed with non-scratch buttons and multi-purpose convenient tool pockets
Cooling mesh technology built into shirts, providing superior ventilation and optimized airflow to keep wearers cool in hot conditions
Teamwear collections, available in men's and women's styles, allow an entire shop team to be professionally outfitted
"At Dickies, we're committed to providing automotive workers with what they need and want to wear in the garage," said Alex Smith, Senior Vice President, Dickies Occupational Wear. "We find a lot of value in collaborating with partners like Detroit Speed. We're always listening to feedback from our workers in the trenches that can help us identify needs and trends building up from the street that we can incorporate into our Shop Collection where it makes sense," said Smith.
Detroit Speed participates in eighteen races, rallies and industry events annually with their iconic hauler each year, where the Dickies logo will be prominently displayed. Detroit Speed will also display Dickies apparel and carry inventory at events to allow other auto enthusiasts access to the same great garage workwear. The Detroit Speed race/test vehicles, driver suit, catalog and website will include Dickies branding to further promote the collaboration. Onsite at the SEMA show, the Detroit Speed team will don their Dickies in the Detroit Speed tradeshow booth.
The President of Detroit Speed, Kyle Tucker, reinforces that demand. "It's important that everyone here has the right apparel for their job function, from the warehouse, to the offices, to in the fabrication shop. I want everybody to look professional, be comfortable, and have the apparel they need to get the job done day in and day out."
Shop the full line of Dickies apparel at www.dickies.com/b2b or follow the brand on Facebook, Instagram and Twitter. To learn more about the partnership, contact DickiesPR@imre.com or stop by the Dickies booth (#10445) at SEMA Show in Las Vegas, NV, Oct. 30 to Nov. 2, 2018.
About Dickies®
Dickies®, the world's leading performance workwear brand, has provided workers with durable, functional and comfortable workwear since 1922, pioneering such iconic styles as the 874® work pant. A brand of VF Corporation (NYSE: VFC), the Dickies® brand portfolio continues to evolve and today includes modern apparel, footwear and accessories for men, women and kids. The brand's range of products are available in more than 100 countries, allowing individuals around the world to experience the performance of Dickies®. For more information, visit www.dickies.com or follow the brand on Facebook, Instagram and Twitter.
About Detroit Speed Inc.
Co-founded in 2001 by automotive performance entrepreneur and racing veteran Kyle Tucker, Detroit Speed Inc. provides products and services to transform classic muscle cars into all-around versatile vehicles with distinct design and performance. Based in Mooresville, NC, the company has been recognized for its keen attention to detail and engineering excellence using American-made components. Detroit Speed helps drivers, car enthusiasts and the industry's top automotive experts put the muscle back into their cars.